Duratrax Welcomes Austin "Gatekeeper" Dunn and Unveils New Gatekeeper™ RC Crawling Products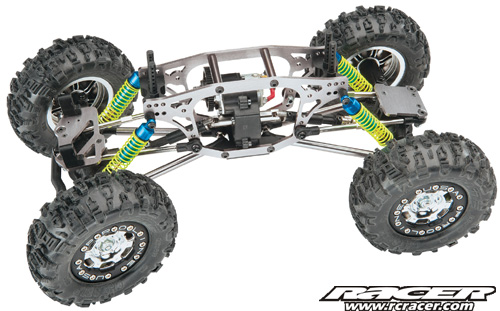 Austin Dunn is a world-class competitor in RC rock crawling. Known as "the Gatekeeper", this 29-year-old Alabama native has been racking up an impressive list of accomplishments with his innovative crawler chassis designs and modifications — a list that already includes nine "firsts" in just the past two years.
Dunn now shares his winning ways with other serious RC rock crawling enthusiasts through new DuraTrax "GateKeeper" products. Only in this exclusive line will you find competition-ready kits and accessories personally designed by one of the most respected crawlers on the planet!
First comes the GateKeeper Mini GC-3 Chassis Kit, with everything you need to turn your Losi Mini Rock Crawler into an unbeatable 1.9 crawler. The kit has already been proven a winner: Dunn recently crawled to a podium finish in the 2009 RC Rock Crawling World Championships using this very set-up. The Mini GC-3 Chassis Kit features gunmetal gray chassis side plates, an axle-mounted servo plate (for standard or mini servos), and rear axle link plate — all manufactured from high-quality, CNC-machined, T6 6061 aluminium.
Also included are strong, anodized aluminium lower links and chassis braces; a low-friction Delrin skid plate to cover the entire bottom of your chassis; high-quality rod ends and rod end balls; adjustable body mount supports and a hardware package.
Join Austin Dunn on the winner's platform with the GateKeeper GC-3 Chassis and additional GateKeeper products coming soon. Watch for them at your favorite hobby retailer!
DTXC0019  Mini GC-3 Competition Chassis Kit   Retail:$109.99  Street:$69.99
Available: Early November
Austin Dunn's record speaks for itself. "The Gatekeeper" knows what you need to win!
2009 Proline World Championship 2.2 1st
2009 Southern Cup 1.9 & 2.2 1st
2008 ECC 2.2 1st
2008 Proline West Coast Crawler Challenge 2.2 1st
2008 Axial West coast Championship 2.2 1st place
2008 Midwest 2.2 Challenge 1st place
2007 R/C Crawling Nationals 2.2 1st place
2007 Axial West Coast Championship 2.2 1st place
2007 SERC Points Series Winner
For more information please visit: www.duratrax.com
Source: Duratrax