Hudy 1:8 Chassis Droop Gauge Support Blocks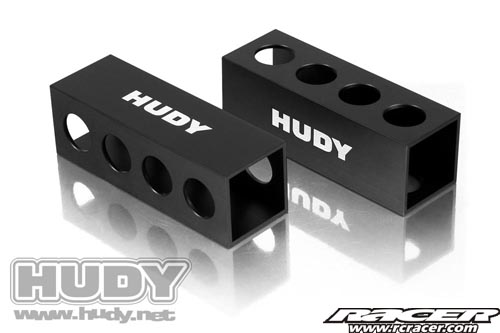 Lightweight chassis droop gauge support blocks are a "must have" set-up tool for every off-road or truggy racer. The aluminium frame is CNC machined and drilled for super lightweight design and exact the size guarantees accurate and precise downstop measurements.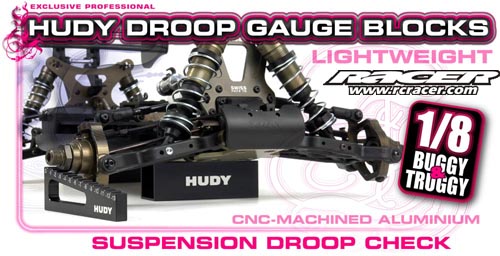 Proper chassis droop is a critical yet frequently overlooked set-up feature of modern 1:8 off-road cars and truggies. It is essential for proper handling to achieve balanced down-travel on each side of the suspension and as such Hudy is the first RC company to develop and produce the first purposefully-designed 1:8 off-road large-size droop gauge support blocks.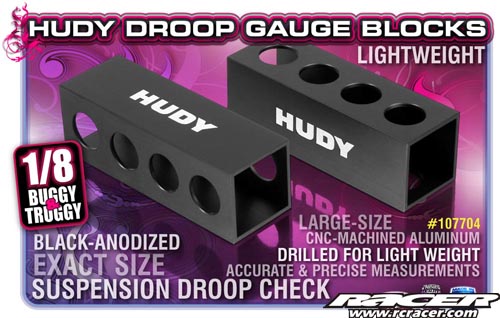 Using the support blocks is simplicity itself. Remove the tyres from the buggy and using flat Hudy Set-up Board #108202 place the chassis on the support blocks; place the front support block below the servo saver, and place the rear support block below the rear suspension mounting. Using the #107717 Chassis Ride Height and Droop Gauge 0 to -13 mm for 1:8 Off-Road with elevated scales, measure the droop under the wheel axle hex. Use the downstop screws to alter the suspension droop on each side of the car; the shocks should extend out far enough that they do not limit the suspension arm movement. Ensuring equal and proper suspension droop will allow the car to achieve a proper traction level and weight transfer depending on track conditions. Please refer to your buggy's (or truggy's) set-up book to learn more about droop adjustment.
1:8 off-road large-size droop gauge support blocks
CNC-machined aluminium
Drilled for light weight
Exact size
Accurate and precise measurements
Highly recommended for all off-road buggy and truggy racers
#107704     Chassis Droop Gauge Support Blocks 30mm 1:8 Off-Road – LW (2)
Source: Hudy