Team Associated R5 Nets Podium In BRCA National Series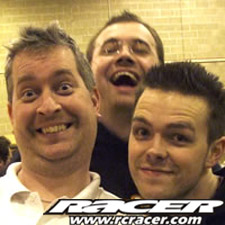 When God was handing out chins, Keith Robertson (left) thought he said 'Gins' and went back for a double…
Despite some bad luck on the day it was still all smiles as the Associated R5 scored a top three position at the final round of the BRCA National series.
The last round of this years BRCA 1:12 series saw drivers head to Chesterfield for a real showdown of top talents hoping to claim the National series. In Pro Stock, seven drivers went into the last round with a chance of the title and in modified there were three drivers that leave Chesterfield as champion.
Pro Stock was the first title to be decided and practice got underway on Saturday morning. Team Associated driver Olly Jefferies led the Pro Stock Championship going into Chesterfield but Olly could win the meeting and still not be champion. Olly's team mate Keith Robertson was in an equally unusual situation of he could also take the title but a poor result could see him finish as low as seventh.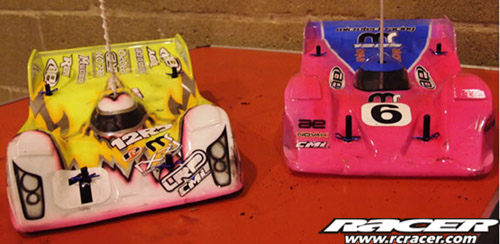 Olly and Keith's Team Associated RC12R5's.
For Olly, Saturday was a disaster! A number of problems saw him fail to make the A final and his challenge for the stock title was over before it began. For Keith it was looking much better and he lined up third in the A.
A messy A final saw Keith suffer badly and he was hit while fighting for a place on the podium. The time lost cost Keith dear and he, like Olly, was left wondering what might have been. It was Andy Moore who went on to win the race ahead of Chris Kerswell who was unofficially crowned Pro Stock champion. The overall standing in the series has yet to be confirmed but should be available in a few days.
Modified has been a lot kinder to Olly Jefferies at previous nationals and he came into Chesterfield leading the class following two wins at Newbury and Maritime. The Associated driver got his Sunday off to a good start posting the fastest time in controlled practice. Keith was also reasonably happy with the handling of his R5 but was looking at a set up change prior to qualifying getting underway.
Round one of qualifying went to Olly despite an early mistake. In round two Olly was quickest again, ahead of his championship rival Chris Kerswell, with Andy Moore just behind in 3rd. Keith Robertson was happier with his R5 despite not being able to match the front running pace Keith sat in a very comfortable fifth overall.
Round three and a return of the glitching problems Olly had experienced during the previous day's racing. A DNF for Olly in this round which saw Andy Griffiths come close to beating Olly's time and move into second spot. Chris Kerswell dropped to third ahead of Andy Moore, the top four covered by just a second. Problems and a DNF for Keith Robertson saw him drop to seventh.
It was gloomy faces all round in the Associated camp as Olly pulled out of the last round of qualifying with interference problems. Three drivers then went on to beat Olly's previous FTD. Chris Kerswell took pole ahead of Andy Griffiths with Andy Moore in third. Olly would line up fourth for the A with his Championship rivals well ahead of him. Another bad for run for Keith saw him drop to eighth, and the Associated pit was not a great place to be at the end of qualifying!
The Modified A final was a closely fought affair. Olly pressured the drivers ahead of him hoping for a mistake and fortunately Andy Griffiths obliged. This only netted Olly third place. With Chris Kerswell winning the two drives and tied on points in the championship it was Chris who took the title on count back. Second in the A was Elliott Harper.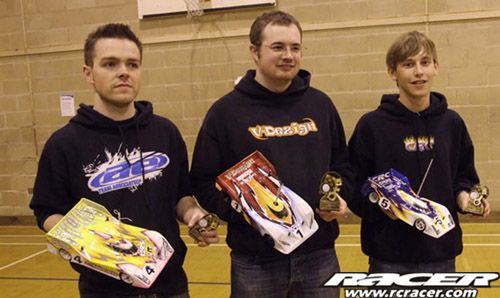 A glum looking Olly on the Modified podium.
Second place for Olly and the R5 in the Modified class is by no means a shoddy result as Olly can reflect on some bad luck at earlier rounds which cost him dear in the final points total. Given this was his first full season of 1:12 he can consider the result a success!
Olly was in reflective mood after the race, "I did enjoy the racing this year, I don't feel my lack of experience hampered me too much and I had good support from everyone around me. Next year I can hit the ground running and hopefully take the challenge to the established 1:12 drivers. I have to say well done (again) to Chris Kerswell, he performed really well when the pressure was on, hats off to him"
The glitching that had cursed Olly day manifested itself into Keith's car for the A final spoiling a good result for the Microtech backed driver.
Source: CML Distribution