VSTank RC Battle Tanks
Military history buffs look forward to every new VSTank model as each is a scale replica worthy of display.  RC'ers enjoy the fact that they come Ready-To-Run both indoors and out and they're equipped to wage wireless warfare with other VSTanks!  The German Pz 753, Soviet KV-1 or KV-1B include intricate scale accessories with painted tank commander/gunner figures.  The independent all-wheel suspensions conquer most rugged terrain and inclines up to 35°.  Manoeuvrable with 3 speeds forward, 2 reverse, 2 turning speeds and even a stationary pivot, these realistic tanks recoil and emit battle sounds when the "fire" button is hit and armoured combat may be engaged with up to 5 other VSTanks!  If the sensor on the opposing tank's turret is hit with the infrared beam – a "hit" is registered.  Five "hits" disable that tank.  A switch on the bottom of the tank controls the sound volume for indoor or outdoor action. All available late August.
German Pz 753 Green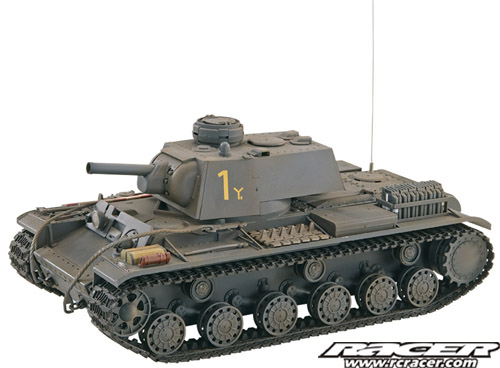 The German counterpart to the Soviet Army's KV-1 the Pz 753 was fitted with the same high-velocity 75mm gun used in a Panzer IV.
VSKD74**      1:24 German Pz 753 Green       Retail:$169.99      Street:$139.99
Russian KV-1 Soviet Army Green & KV-1B Soviet Army Green
The KV-1 was an integral part of Russia's defence against the German invasion in June, 1941.  The KV-1B variant featured more protective armour on the turret and the front and sides of the hull.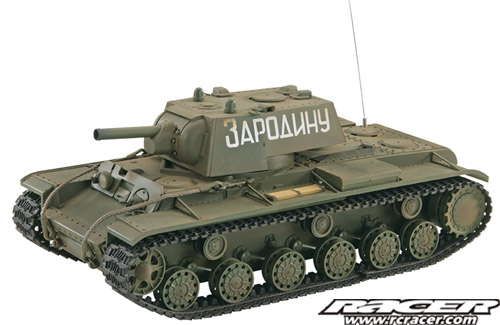 VSKD81**      1:24 Russian KV-1 Soviet Army Green RTR      Retail:$169.99     Street:$139.99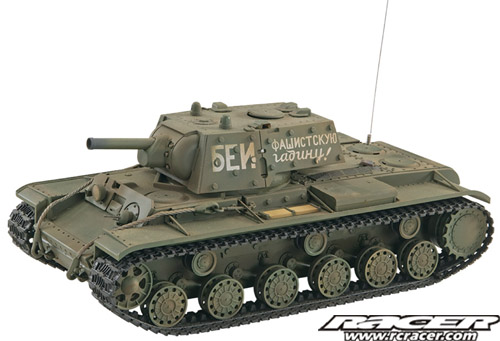 VSKD82**      1:24 Russian KV-1B Soviet Army Green RTR     Retail:$169.99     Street:$139.99
Source: VSTank USA