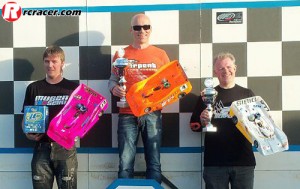 Michael Salven reports on his recent National win for Serpent win:
On the weekend of  13-14 April I had my first German National race. I was really looking forward to it, since I was eager tyo get more running with the all new Serpent 977 Viper. Saturday was very busy with 74 drivers trying to get their cars working for this track. It is a technical track with a very fast sweeper at the end of the straight. That very corner gave me a lot of headaches, since I knew we could do it full throttle last year. For some reason I could not do it as I had too much understeer while all the rest of the track was fine. I tried a few things but I still had an issue there. Finally, the solution was to run the car narrower in the front and with a softer front anti-roll bar. I also moved the weight as far back as possible and while it still was not perfect, it was very good!
I managed to take TQ, but my team mate Rene Püpke gave me a hard time taking second spot with his Viper. The semi final went well for me, while Rene had to retire with a lost clip on his two-speed, but we stiil had four 977 Vipers in the final. Right from the start I managed to drive away from the pack, followed by Karl-Heinz Meister also with the Viper and later on by John Ermen when Karl-Heinz was hit by engine troubles. After ten minutes I made sure I keep the lead and took no risks, winning the race with two laps in front of Steven Cuypers. And excellent third place by Christian Wurst with the first race back in the Serpent camp made a perfect start for the Viper in Germany. I am really looking forward to the next race in two weeks time.
Source: Serpent