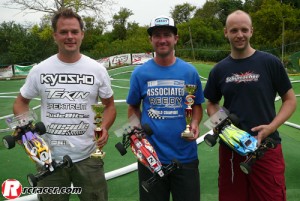 The penultimate round of this year's BRCA 1:10 Off-Road Nationals was hosted by Stotfold Model Car Club on their all Astroturf track. With the glorious sunshine continuing it was nice to have a national without any rain for once, although it was rather hot and humid for all concerned. In the 2WD event, Kevin Lee (Kyosho) took the coveted pole position spot with Neil Cragg (Centro) second on the grid. Fellow championship hopefuls Lee Martin (Tamiya) was sixth, Tom Yardy (Centro) eighth and Simon Moss (Schumacher) ninth, so unlike the previous meeting this time we had all the contenders in main final to battle it out.
In the finals it was Neil that was right on his game to take wins in the first and second legs whilst Kevin won the final leg to secure the runner-up spot on his home track. This still leaves the 2WD championship open with Neil, Lee and Simon all still in with a chance, although Neil now looks favourite.
The rain arrived Saturday night but it was bright once again on Sunday morning for the 4WD event and after a damp practice it remained hot and dry once more. A very technical track had been put out this time making full use of Stotfold's numerous table-tops. Champion elect Neil Cragg (Team Associated) was dominant in qualifying to take the pole position ahead of Lee Martin (Tamiya) and Tom Yardy (Team Associated).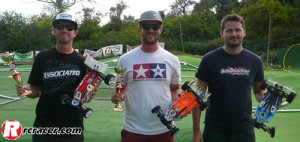 After three very close run finals, surprisingly Neil wasn't able to convert his pole into a leg win this time. It was Lee that took the first leg with the second leg going to Lloyd Storey (Schumacher) after he absorbed a stack of pressure from Neil and Craig Collinson (Team Durango). The final leg went to Lee again giving him the overall win. Despite not winning on the day, this was enough for Neil to reclaim the 4WD title he shared with Lee Martin last year with one round still to go, and this was Neil's 17th National title – that's some going!