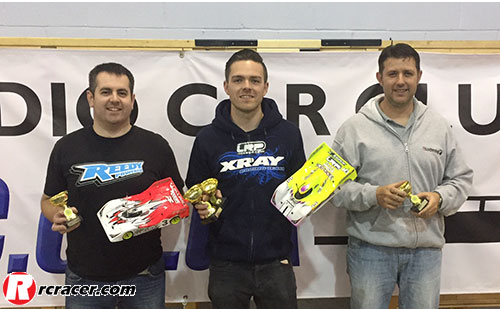 Last weekend saw the first round of the 2015-16 BRCA 1:12 nationals take place at West Kent Radio Car Club. This venue has quickly become a regular fixture on the national calendar having built up a good club following and boasting an excellent track and facilities. The favourite coming into the event was Xray's Olly Jefferies. Having won the championships in dominant fashion last season, he was expected to carry that momentum into this winter. However, some challengers to Olly's dominance emerged in the form of former world champion David Spashett and also Mark Stiles. The event was close to being full with 80 competitors racing on each day. The host club also did a fantastic job of laying a track that would put most European and World Championship events to shame.
Saturday
In qualifying for the 10.5T stock class on Saturday, Olly took TQ with his LRP-powered Xray chassis, but only by a slender margin of 0.043s ahead of David Spashett's Zen-Racing car. Mark Stiles lined up third with his Reedy-powered Yokomo, but was five seconds adrift of the lead duo after failing to improve his time in the last round of qualifying.
In the A final, Olly got away cleanly but a mistake by David at turn two allowed Mark to slip through into second place. Further incidents on the first lap dropped David down the field while the lead pair broke away at the front. After a couple of minutes Olly had built up a small margin and looked to be controlling the race, but in the middle part of the race Mark was able to close the gap to less than a second and with two minutes to go it looked like being a fight to the line. Tricky negotiation of back markers cost Mark a little time though and he was left with a gap of two seconds to try and close in the final handful of laps. He managed to catch Olly as they started the final lap, but was unable to find a way past in the remaining corners. The pace of the leading two cars was such that they lapped the entire field but were only separated by 0.07 of a second at the finish! David Spashett recovered to take a hard fought third following a tough race.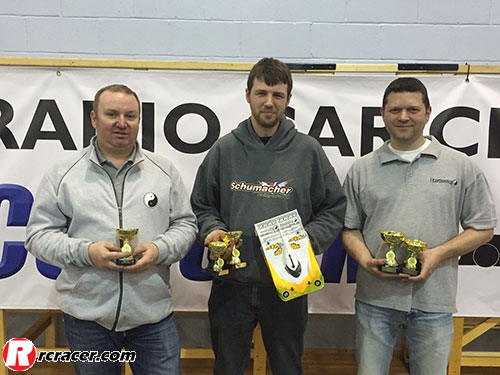 The 13.5T stock category was dominated by Peter Craig. He TQ'd and then went on to win the A final by a comfortable five seconds ahead of Gavin Clinch and Neil Diver.
Sunday
A meagre field of just 16 cars contested open modified on Sunday, but at least 14 could be considered as genuine A final contenders so the competition was fierce. Olly Jefferies was back on dominant form and a flawless run in round three secured him TQ by eight seconds ahead of David Spashett and Mark Stiles, so a repeat of Saturdays top three.
The final wasn't quite as straightforward for Olly. Early pressure from David almost resulted in a change of lead on lap four, but unfortunately a collision resulted in David being forced to retire with a stripped spur gear. This promoted Stiles up to second and in a repeat of Saturday's final they pulled away from the chasing pack. Mark was just managing to keep up with Olly until a small error cost him a couple of seconds and gave Olly some breathing room. After this he relaxed into a groove and cruised to victory. Mark ended up six seconds adrift, with a resurgent Chris Kerswell third with his new Roche car, albeit a full lap down.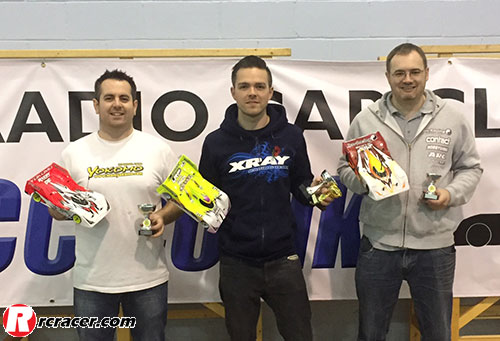 The sport class was dominated by Tim Wood as he comfortably TQ'd and won the A final with his Reedy-powered Serpent, while Jim Spencer and young Olly Payne had a race-long battle for second with Jim eventually coming out on top.
A huge thank you to the organising club, who put on an event that the other hosts will have to work hard to match. The next round of the championship takes place at Crewe in three weeks time.
Full results and championship standings will be available soon here.