HPI Europe Formula Ten Demonstration Race

The HPI Challenge is coming back!
Join the HPI team in Derby, England, next month for a charity race that will feature a full grid of Formula Ten cars in what promises to be a fantastic demonstration race to promote the upcoming Formula Ten Challenge series. HPI Europe are starting off with a few demonstration races. After these rules will be finalised and the 2010 HPI Formula Ten Challenge series announced.
Watch the latest Formula Ten racing video here.
HPI Formula Ten Challenge – Demonstration Race – 15 November 2009
Part of the Derby Radio-Control Model Car Club (DRMCC) Charity Race to benefit the local air ambulance and Cancer Research UK.
The first race to prove the concept of the upcoming Formula Ten Challenge series will be on Sunday 15 November in Derby, located in the centre of England. Anyone with a Formula Ten in stock form will be welcome to attend and race for the entire day for a minimal race fee, rubbing shoulders and tyres with HPI staff, who will be in attendance and racing all day. Other classes such as 27-turn and modified touring car, plus 1:12 scale, will be running, so it's a great opportunity to race your Formula Ten, watch some exciting racing and meet the staff from HPI Europe.
Time: doors open at 09:00, racing starts at approximately 10:00
Location: Derby Moor Community Sports College
Race Format: 3 rounds of Qualifying, 2 rounds of Finals (time permitting)
Prizes: provided for the top 3 in each class
Refreshments available all day, AC charging available to racers.
Entry fee is just £10.
Entries must be sent in as Soon as possible.
Entry cut-off is the 6th of November.
Fun And Fair Rules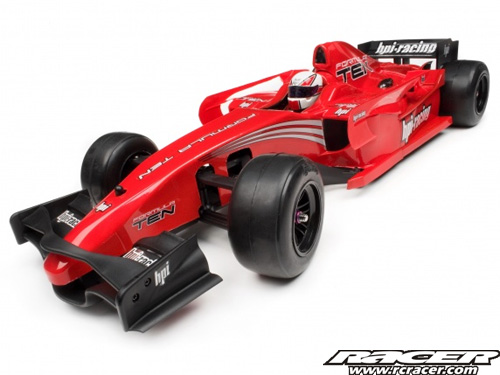 HPI Europe have been working on a set of rules that will allow racers of all skill levels to have fun and compete in a fair setting, using a mix of the latest electronics and what you may have available in your RC parts bin already.
Super-Simple Rules: bring a car and a 4-cell pack!
To join in the fun, all you need is a Formula Ten car equipped with a 4-cell battery pack of your choice – that's all.
At this first demonstration race, HPI will provide every racer that needs a motor with an HPI 15T Firebolt motor (#1146), which will provide enough power to have fun on the indoor carpet track. The maximum pinion size is 22T. You also have the opportunity to use a 17.5T brushless motor if you have one, however this is not required. The maximum pinion size for brushless motors is 26T.
Each Formula Ten car needs be built as indicated in the kit (no modifications to wings, bargeboards, etc.), with the bodyshell cut out according to the instructions. Here are the complete rules, they're very short!
Please note – This is a demonstration race to present the cars and also to evaluate the technical rules. The rules below may change slightly before the race date.
The final rules for next years Formula Ten Challenge race series will be decided after they have gathered feedback from the demonstration races.
Complete Rules
Car: HPI Formula Ten cars only, built as per manual
Options: minimal modifications only, see part numbers below
Tyres: HPI Formula Ten rubber tyres only, see part numbers below
Wheels: HPI Formula Ten wheels only, see part numbers below
Motors: HPI Firebolt 15T (#1146) (offered free to all racers who need one) with maximum size 22T pinion, OR any 17.5T brushless motor with maximum size 26T pinion
Battery: any 4-cell 4.8v NiMH battery pack
Bodyshell: HPI Formula Ten 016C or 014C bodyshell, see part numbers below
Some options are allowed, to allow car owners who have added these parts to race. The full list of legal options are below, and HPI have helpfully marked the options they think will be extra useful.
Race-Legal Options include:
Ball bearing sets, e.g. #102877 Ball Bearing Set or #ED151080 Edit RC Ball Bearing Set ABEC 3 *recommended!
Servo saver, e.g. #61644 Hot Bodies Servo Saver Set *recommended!
Turnbuckles, e.g. #102496 Titanium Turnbuckle Set M3 x 24mm or #61246 Hot Bodies Cyclone S Steel Turnbuckle Set *recommended!
#102879 Threaded Aluminium Shock Set (with any standard 13mm diameter spring)
#102910 Aluminium Servo Mount Set *recommended with oil-filled shock
HPI Formula Ten High Grip S Tyres only: #102906 (Front) & #102907 (Rear)
HPI Formula Ten High Grip M Tyres only: #103016 (Front) & #103017 (Rear)
HPI Formula Ten wheels only: #102824 black set (stock) or silver Precision set: #103321 (Front) & 103322 (Rear)
4-cell 4.8V battery, e.g. #102863 HPI 4.8V 3300mAh NiMH Stick Pack or #101935 HPI Plazma 4.8V 4300mAh NiMH Stick Pack
HPI Formula Ten bodyshells only: #102869 Formula Ten Type 016C Body or #102839 Formula Ten Type 014C Body
HPI Europe are planning some Big things for the new & improved HPI Challenge series, and they hope that you'll be able to join us at this inaugural event. It's going to be loads of fun and very special!
Source: HPI Europe