Hupo Wins IIC Las Vegas 1:12 Modified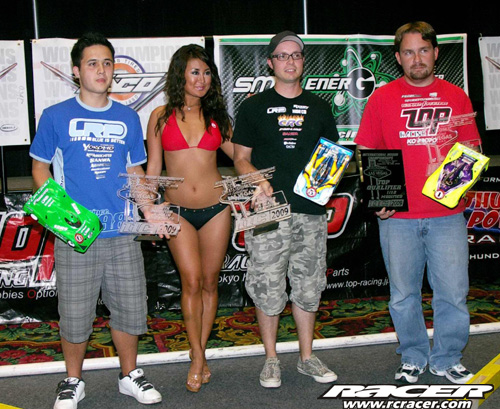 Hupo (centre), Ronald Voelker (left) and Josh Cyrul made up the 1:12 modified podium at the IIC. These guys arn't the tallest in the world so that trophy girl must be truly pocket sized!
Hupo dominated and took his 2nd 1:12 Modified title in a row at this years edition of the IIC Las Vegas.
Hupo did what he had to do in the gambling city of Las Vegas. He put on a fantastic show and took his second consecutive title in the prestigious 1:12 Modified class at the IIC. This year was the fifth year of the IIC Las Vegas, with this years event taking place at the Riviera Hotel and Casino, right on the famous strip. This year saw a large amount of international top drivers from the US, Europe and Asia competing against each other.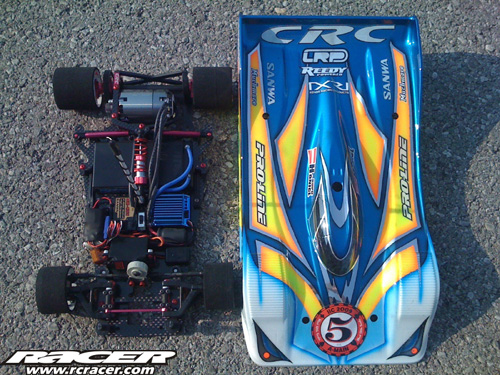 In the finals Hupo´s LRP powered 1:12 car was in a class of its own and he could take the lead early on from his fifth starting position. As the final went on Hupo continued his fast starting pace and completely dominated the whole field and set fastest lap after fastest lap. In the end Hupo could cruise to a convincing second IIC 1:12 Modified title in two years. Hupo´s 1:12 car was powered by LRP VECTOR X12 4.0T with the all new lightweight alu tuning and cooling parts, LRP SXX Competition speed control, VTEC LiPo RX and TX packs, Sanwa M11X transmitter.
Hupo´s fantastic 2009 year and impressive string of top international race wins continues.
In the 1/10th Modified class it was again a success for LRP when top US driver and all-around nice guy Paul Lemieux took a well deserved victory, running the new LRP SXX TC-spec speed control in his car. Paul was the pace setter from the first day to the last, setting an impressive TQ and then easily taking the win against tough competition from all over the world.
Source: LRP