New Novak Stators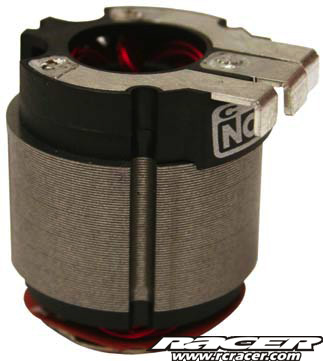 Change your motor turn without changing out your motor with Novak's ten Ballistic Wound Stators – 3.5T-21.5T (#S6603-#S6621). The Ballistic motors' innovative design defines versatility by featuring interchangeable wound stator construction. By unscrewing the main screws, the motors' end bells and sensor assemblies can be easily removed to leave only the stator, which can be replaced with a different wound stator. The ease of installation and numerous motor-wind options provides drivers with a cost effective way to race many different classes without purchasing a large number of motors. In addition, the stators can be easily replaced if damaged.
In fact, only one motor is necessary to compete in any race. Simply pick your class of choice, and install the necessary hand-wound stator. Each spec-class stator includes a factory-installed insert that easily identifies the number of motor winds. The hand-wound stators are also ROAR approved for their specific racing class.
Like all Novak brushless motors, the Ballistic Hand-Wound Stators are designed, tested and built at the Novak facility in Irvine, California. Each stator is hand-wound for maximum copper fill and individually tested for consistency. The stators are also inspected, packaged and weighed to ensure the best product is sent to customers.
Novak's Ballistic Wound Stators – 3.5T-21.5T (#S6603-#S6621) are now available to ship. For more information, visit the Novak Web site (www.teamnovak.com).
Source: Novak