Novak Kinetic/Ballistic Brushless Systems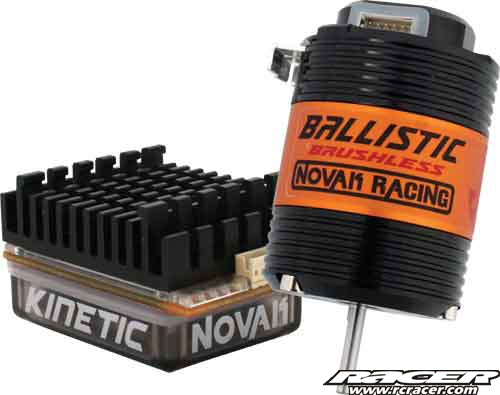 After years of designing, testing and perfecting, Novak – the forerunner of speed control technology – has completed its greatest engineering accomplishment. Novak's flagship Kinetic Racing Brushless/Brush ESC (#1740), which is available in 10 Kinetic/Ballistic Brushless Systems – 3.5T-21.5T (#3140-#3149), includes all of the most sought after speed control features in RC racing, such as dynamic motor timing, digital current control, complete on-board programmability and built-in PC interface software. But it wouldn't be a Novak speed control if the Kinetic did not include some brand new features that will inevitably raise the standard for speed controls throughout the industry.
Personalised Racing Speed Control
Novak has packed the small and lightweight Kinetic with a multitude of features that will, simply, improve any driver's racing. Among the many adjustable parameters, the Dynamic Timing Advanceâ"¢ stands out for its self-adjusting capabilities. The motor-timing feature increases the motor RPM dynamically from signals throughout the speed control. This, in turn, will result in higher speeds and improved performance. Another new element to Novak ESCs is the precision, digital current limiting feature, known as Electronic Power Controlâ"¢. By adjusting the current limiter, drivers can fine tune their vehicle's power delivery and response, creating a more consistent throttle. The Electronic Power Control also decreases system temperatures, prevents wheel spin and mutes over-aggressive throttle use.
Two additional features that go hand-in-hand are the Brake and Throttle Curves. Simply stated, these curves allow drivers to apply their brakes and throttle more gradually or aggressively. But the most impressive element to these parameters is their adjustability. Using Novak's new PC interface, users can customize preset brake and throttle curves graphically by simply dragging points on the graph. Drivers can either save these customized curves or create their own to test drive on a track later.
Another feature that can be fine tuned via Novak's new PC interface is the adjustable Voltage Cut-Off parameter. This feature allows drivers to select a cut-off voltage value among a predetermined range of values for 2S Li-Po and Li-Fe battery packs. This voltage cut-off flexibility can improve a vehicle's performance, while still protecting a driver's battery investment.
The fast and smooth Kinetic also includes a Starting Line Mode that improves drivers' reaction time. Only a slight touch of the throttle will initiate the speed control's maximum speed. This feature improves racers' chances of being in the lead through the first turn, or the holeshot, quick trigger finger or not. In addition to quick starts, Novak has fashioned a feature to simplify braking. The Brake End Point aids fine tuning the Kinetic's braking power without changing the radio settings.
Tune In With The Novalink
In addition to Novak's easy-to-use One-Touchâ"¢ on-board programming interface, the Kinetic ESC can be fine tuned via Novak's fully adjustable PC interface, the NovaLinkâ"¢ (#5440). The optional NovaLink provides users with expanded programming adjustability. The NovaLink Programming Interface comprises a unique module that easily plugs into the Kinetic's input harness and an included USB cord. Using the integrated software disk, racers can fine tune the Kinetic's multiple parameters by inputting the desired values or using the user-friendly graphic controls. Additionally, each personalised set of parameters can be stored onto a Pto recall and use again later. These custom-made parameter sets can, in addition, be shared with other drivers to collaborate and find the best set up per competition and race condition. The NovaLink will also never be outdated due to the easy-to-download software updates available to NovaLink users on Novak's Web site. Furthermore, the NovaLink is compatible with Windows® XPâ"¢ and Vistaâ"¢.
In addition to driver file sharing, Novak also plans to create a database of parameter settings for any racing condition or application. Simply, visit the Novak Web site and search for your specific condition or track; download the file and save it to your PC. This will give drivers a starting point when preparing for a race and tips on how to properly adjust the Kinetic's many parameters. Through Novak's Profile Selection feature, users can save up to two parameter settings on their Kinetic and can switch between them using the One-Touch interface to meet their application needs.
Next-Generation Motors
To complete the remarkable system, the sensored Ballistic motors contain an easy-to-adjust timing assembly that alters the RPM range and features interchangeable wound stator construction, which creates dozens of racing options. Additionally, these sleek motors are ROAR/IFMAR approved, boast a removable shielded sensor harness, and contain a nickel-plated sintered Neodymium rotor for maximum motor acceleration, braking power and performance in high-temperature conditions. And like all Novak racing motors, these brushless motors are blisteringly fast, reaching speeds that will effortlessly satisfy any racer or basher.
The expected ship dates for the Kinetic/Ballistic Brushless Systems – 3.5T-21.5T (#3140-#3149), Kinetic Racing Brushless/Brush ESC (#1740) and NovaLink Programming Interface (#5440) will be announced shortly. For more information and updated ship-date information, visit the Novak Web site www.teamnovak.com
Novak's Kinetic/Ballistic Brushless System Features
Multiple adjustable parameters via on-board or optional PC interface: Minimum Brake, Drag Brake, Minimum Drive, Dynamic Timing Advanceâ"¢, Electronic Power Controlâ"¢, Dead Band, Throttle Curve, Brake Curve, Brake Frequency, Brake End Point, Drive Frequency, Reverse, Motor Rotation, Battery Type Selection, Starting Line Mode, Motor Temperature, Voltage Cut-Off (via NovaLink) and Profile Selection
Sensor-based for excellent torque and low-speed driveability
Kinetic/Ballistic Brushless Systems are factory-wired and race-ready straight out of the box. Each system is also tuned and tested together for optimal performance.
User friendly One-Touch programming interface with five colored status LEDs to help personalize the speed control's settings
Compatible with the entire 540-sized Novak brushless motor line and any ROAR-approved 540-sized sensored brushless motor
Battery Type Selection circuitry for Li-Po, Li-Fe and Ni-MH battery packs
Oversized front bearing (1/2" x 3/16") for increased load handling and bearing life
Rebuildable motor design with removable shielded sensor harness, rotor, sensor assembly, wound stator, bearing, bearing cap, hardware, sleeve and both end bells
Nickel-plated, sintered Neodymium rotor with a 0.125" pinion shaft that accepts all existing pinion gears
Locked Rotor Detection and Thermal Overload Protection (when used with a Novak sensored brushless motor)
Included 25x25x10mm ESC cooling fan (#5647) mounted on factory-installed heat sink
Eight layered, 2 oz., copper-clad PC board for lowest possible power loss
Water-resistant case
Cross-cut ESC heat sink for reduced weight and efficient cooling
Meets RoHS compliance and includes 120-Day Warranty
Designed, assembled and tested by Novak in Irvine, Calif., using globally sourced components
#1740 Kinetic Racing Brushless/Brush ESCâ"¢
#3140 Kinetic/Ballistic Brushless System – 3.5T / 10,500 Kvâ"¢
#3141 Kinetic/Ballistic Brushless System – 4.5T / 9,000 Kvâ"¢
#3142 Kinetic/Ballistic Brushless System – 5.5T / 7,400 Kvâ"¢
#3143 Kinetic/Ballistic Brushless System – 6.5T / 6,400 Kvâ"¢
#3144 Kinetic/Ballistic Brushless System – 7.5T / 5,800 Kvâ"¢
#3145 Kinetic/Ballistic Brushless System – 8.5T / 5,000 Kvâ"¢
#3146 Kinetic/Ballistic Brushless System – 10.5T / 4,200 Kvâ"¢
#3147 Kinetic/Ballistic Brushless System – 13.5T / 3,300 Kvâ"¢
#3148 Kinetic/Ballistic Brushless System – 17.5T / 2,200 Kvâ"¢
#3149 Kinetic/Ballistic Brushless System – 215T / 1,800 Kvâ"¢
#5440 NovaLink Programming Interfaceâ"¢
Source: Team Novak