Acorn Racing 30C 4200mAh LiPo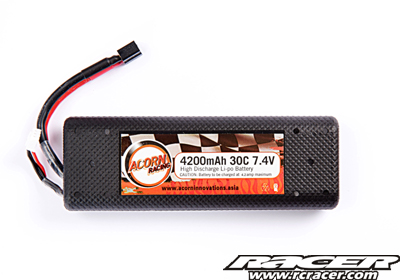 Acorn Racing announce the release of this new 4200mAh 30C hardcase LiPo Battery. Designed using the latest technology for LiPo batteries to handle the current high-current demands of today's RC Power applications. This new series 4200mAh 30C 2S1P LiPo offers extremely high voltage, long run time and superior consistent sensational performance and true 30C discharge. They are specifically designed and tailor-made to fit into almost all popular RC models in the RC market!
Featured in a durable hardcase in order to keep the cells from being damaged during use, the new LiPos feature the same dimensions as standard 6-cell Sub-C battery packs and fits in all standard 1:10 and 1:8 scale on and off-road cars.
The hardcase also features some vertical standard Sub-C cell bulges to securely fit standard Sub-C pre-cut chassis to ensure an accurate and firm fitting in each situation. This battery measures 137mm x 47mm x 22mm and weighs a mere 230grams and is built within ROAR's Legal specifications.
AR4200RH      4200mAh 30C 2S1P 7.4V Hardcase Race LiPo Battery
Source: Acorn Racing