Acorn Racing Carbon Edition LiPo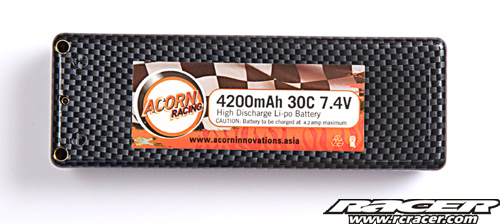 Following the Release of 4200mAh 30C 2S1P 7.4V Hardcase Race LiPo, Acorn Racing have introduced another edition of this competitive High Discharge Race LiPo. Fitted in a carbon look hard casing to ensure enough protection for these high discharge LiPos, like its older brother, this version of the battery offers extremely high voltage, long run time and superior consistent sensational performance with true 30C discharge. This model also has an improved version of the electronic chip to produce even more consistent power. With numerous feedbacks and testing from racers, this carbon edition LiPo is further improved with a gold plated 4mm banana type connector to reduce unnecessary resistance. This battery weighs a mere 228grams. With this reduction in overall weight, the overall weight balance can be further balanced with counter weights at critical positions within the chassis. A low Centre of Gravity and a balanced chassis further enhanced the manoeuvrability and performance in RC Racing and is especially good for stock class races.
The carbon edition battery takes on the positive aspect design of the older brother possessing a hardcase which also features some vertical standard Sub-C cell bulges to securely fit standard Sub-C pre-cut chassis to ensure an accurate and firm fitting in each situation. This model of battery measures 137.5mm x 47.5mm x 21mm and is also built within ROAR's legal specifications.
AR4200RC     Acorn Racing 4200mAh 30C 2S1P 7.4V Carbon Edition Hardcase Race LiPo
Source: Acorn Racing