Cavalieri Takes The Pro Buggy Win At The R/C Pro Series Finals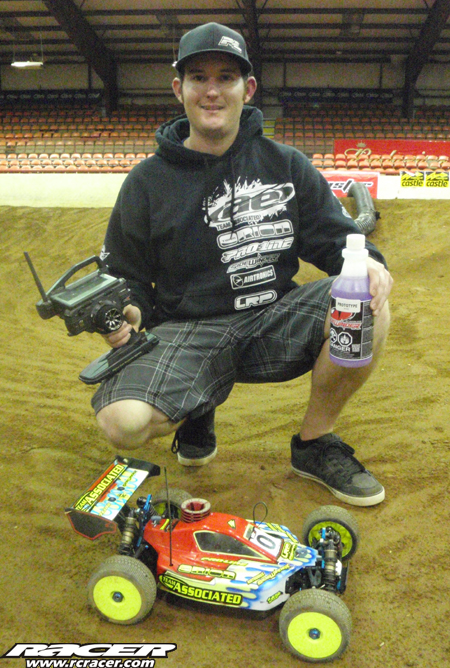 From regional entrants all over the country, the R/C Pro Finals brings together racers from nine different regions including the hot beds like the South, East and the top Pros from the West division. Racers accumulate points in their region and then take those points to the Finals in Alvarado, TX to compete against each other for the overall championship.
Team Associated's Ryan Cavalieri, racing out of the West division, travelled to the Lone Star state in hopes of claiming a double victory with his RC8B and RC8T. With only two opportunities to score points for the finale, Cavalieri came in to the event down on points to others who competed in multiple or weaker divisions than the "Pro" heavy, West division.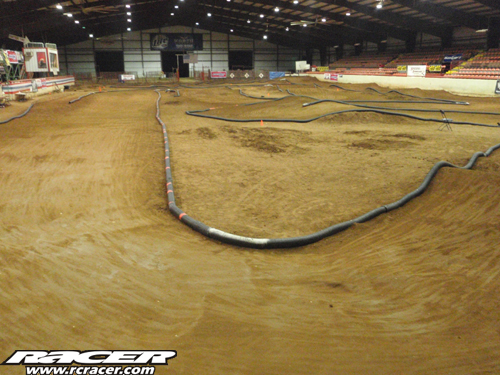 Throughout qualifying, Cavalieri was right on pace with the other top racers and qualified third in Pro Arena Truck and second in Pro Buggy. While racing for the lead in Pro Arena Truck, Cavalieri came up just a few feet short of the finish line on his pit-in lap and unfortunately ran out of fuel. Going almost two laps down in the middle of the race, Cavalieri continued and a late race flame out from third place allowed Cavalieri to finish third at the event and third in the overall series. Also joining Cavalieri with their RC8T's in the final were Kyle Skidmore (5th), Derek Guidry (14th) and Chad Parks (15th).
In Pro Buggy, Cavalieri was well down in overall points coming in to the event and would needs some major stumbles from his competitors to compete for the overall championship. Breaking away from the pack 25 minutes in to the 60 minute final, Cavalieri put on a clinic showing how to seal the finals win on the ultra difficult Diamond W Arena track. Also joining Cavalieri in the final was Kyle Skidmore (8th). Unfortunately for Cavalieri, his competition did what they had to do to secure the overall title and Cavalieri finished second overall in the series.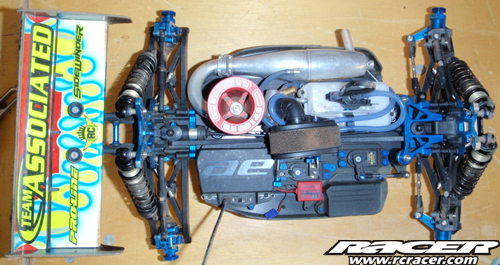 Congratulations to all the R/C Pro Series champions and thank you to the R/C Pro staff for a great event that challenged drivers of every skill level. Next year already looks to be bigger and better.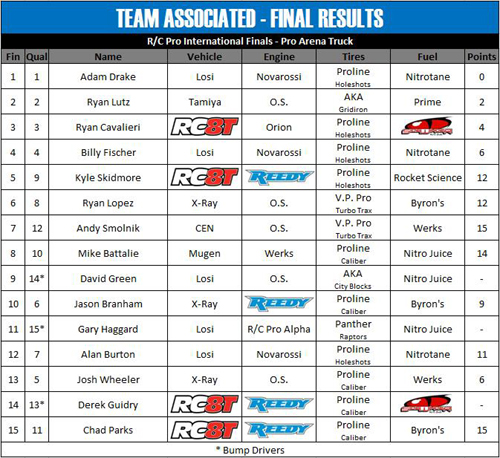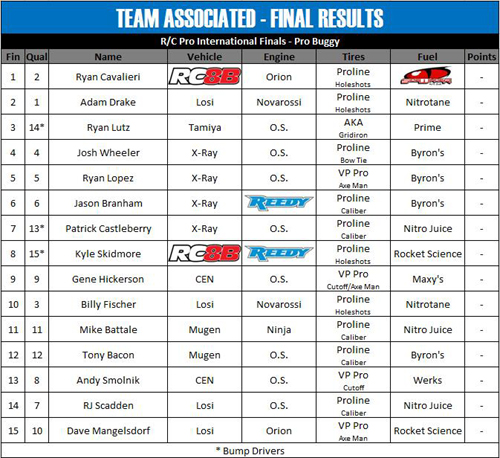 Source: Team Associated