Drescher Victorious As Associated Take Coventry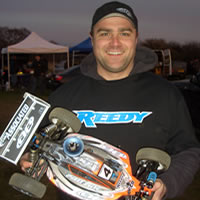 The first round of the Coventry Winter Series, held on the small and technical astroturf track at their facility turned out to be an excellent race on a surprisingly dry day.
BRCA National Champion Neil Cragg was present with team mates Craig Drescher and Alex Mortimer. In addition to this Elliott Boots had also travelled up, and with local ace Matthew Lewis in the mix we had a very competitive field.
The track was very damp but with no rainfall during the event, conditions were actually quite pleasant. Round one saw a very close top heat with local man Matt Lewis just coming out on top in front of Neil Cragg and Alex Mortimer. Round two and Neil Cragg stepped up his pace and armed with a little more track knowledge was able to set the fastest time just in front of Elliott Boots. This was also the case in the final round where Neil made some changes to the diff set up of his RC8 which allowed him to find some extra pace over his rivals. The overall top five was Neil, Elliott, Matt, Craig and Alex.
The start of the 15 minute final was frantic, with the drivers times being so close nobody was able to get away in the early stages and there was a fantastic four-way battle for the lead with Alex Mortimer holding the advantage up to about the seven and a half minute mark. At this point the drivers started to make their pit stops and after a scruffy out lap Alex had dropped back to fourth. It was Craig Drescher who emerged as the leader after a very strong middle stint to the race where he made no errors and ran at very good pace. This left the other guys trying to chase him down and in the process making a few errors that allowed him to carry his Reedy/Byron powered RC8B to the victory. Elliott Boots took second after a last lap fight with Matt Lewis.
Download Craig's winning set-up sheet for the RC8B HERE
In the truggy class it was Liam Galvin who took the win with his RB/Byron powered RC8T and some very spectacular driving!
You can find more details about the Coventry Model Car Club by visiting their website HERE
Source: CML Distribution