Hébert and TC5R win 2009 Halloween Classic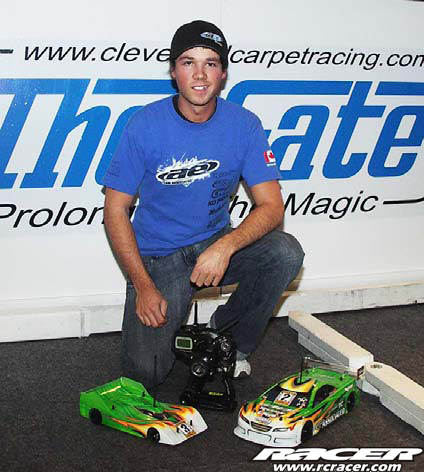 Typically held at the world-famous Cleveland, Ohio landmark The Gate, the 2009 Halloween Classic has found a new home at the equally impressive Holiday Inn. The Classic also served as Round 1 of the 2009/2010 North-East Grand Slam Series.
As has become the norm, Keven Hébert drove his Reedy/LRP-powered TC5R to a convincing victory in the Super Stock 13.5 Rubber Class. This class has become the most prestigious touring car class in the U.S., and Hébert's speciality. Qualifying on the outside of the front row, Keven quickly gained the lead and never looked back to cap another successful weekend.
Keven's TC5R has steadily improved thanks to extensive testing and new set-ups. The Reedy 35C 5000mAh LiPo battery and LRP SPX Stock Spec ESC proved once again that they are the premier power combo in the Super Stock class.
In the Pro Foam TC class, Drew Ellis debuted the LRP X-12 Stock Spec 10.5. After qualifying third, Drew steadily worked his way into the lead and held on for the win.
With their victories, Keven and Drew take their North-East Grand Slam points lead heading into the Holiday Challenge at The Track in Gaithersburg, Maryland.
Products used:
709 Reedy 5000mAh 35C 7.4V LiPo Battery
30105 TC5R Factory Team TC Kit
LRP41552 Pulsar 3 Competition Charger
LRP80400 LRP SPX Stock Spec ESC
LRP50832 LRP Vector X-12 Stock Spec 10.5
Source: Team Associated