JConcepts Clash Stage 2 Race Entry News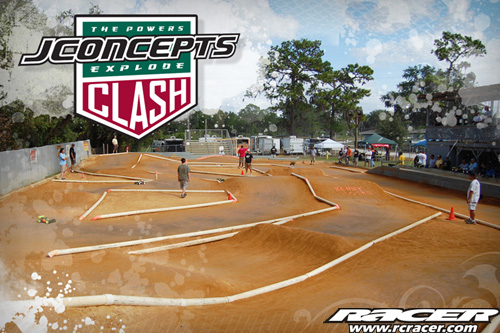 We are roughly one month away from the 2009 JConcepts Clash. Entries continue to flow in and once again there is expected a great turnout. There was over 266 entries last year and more are expected this year. Sign-up HERE online or call 352-241-4976 to sign-up over the phone.
Expect a fantastic competitive turn-out of some of the largest names in RC. I have spoken with the Hurricane Club and all signs point to a fantastic event. Dave Warr and Joey Perez have been coordinating with the Park Rangers and notified them of the expectation and size of the event and should have things completely under control. The pre-Clash layout has started to take shape, see the image above. This is not 100% of the Clash layout but only an example of the work in progress. Expect a technical layout with a blue or black groove surface. A warm-up race will be held on November 29th. Mark your calendars!
Two-time Clash defending 1:8 buggy champion Ryan Maifield will be back fresh off his Punishing Nationals run at the 2009 ROAR Nats. Expect a heated battle! Ready to give Ryan some serious competition is two-time IFMAR World Champion Ryan Cavalieri who has signed on to compete along with Team Associated Team Manager Brent Thielke to race in this year's event. Another IFMAR World Champion driver has expressed interest and we are waiting for a confirmation before we make that announcement.
Defending champion and Florida local JR Mitch will be back to defend his 1:8 truck championship. Can anyone beat JR in 1/8th truck?
Lee Martin, the defending 2wd and 4wd champion will be back to defend the coveted titles. Perhaps an up and comer will have something for him? Will a driver from the past have what it takes to take him down?
Read More about the JConcepts Clash click HERE where there is full details of entry to the event.
Source: JConcepts