Latest Nosram Products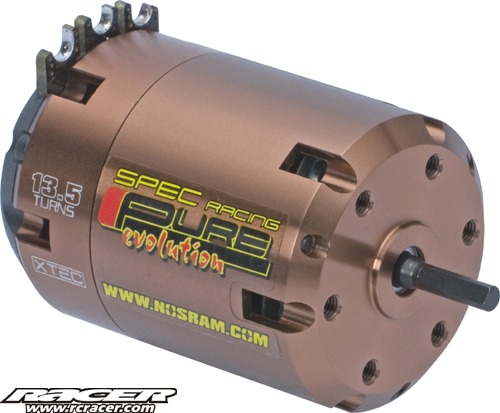 Nosram PURE Evo SpecRacing Brushless Motors
Prepare yourself for the next evolution in brushless spec racing technology. The all new PURE Evo SpecRacing motor is the new benchmark for stock racing worldwide. Based on years of experience and racing success, Nosram has designed a spec racing brushless motor that is based on the already legendary and World Championship winning PURE Evolution modified platform that combines X-treme power with perfect controllability. Together with the new "Easy-Tech" features, the PURE Evo SpecRacing motors is the perfect combination of top class brushless motors and fair racing for controlled stock racing.
Features:
HDS Technology: High Density Short stack for highest power output.
New StockSpec Magnet: High strength sintered 12.45mm magnet with maximum dimension allowed by the rules for maximum performance
PreciSensorTM System: Revolutionary precise sensor positioning for best power, throttle and efficiency. Fully adjustable and replaceable.
Reproducible Timing: Timing adjustable in clearly defined, reproducible steps with the new moulded timing inserts for same result every time.
Dismountable: Machined 7075-T6 aluminium can, short/lightweight design and maximum airflow.
Easysolder Design: Heavy cooper, multilayer PCB for lowest resistance.
Oversized Ball Bearings: Oversized ball bearing for highest performance and durability
91831     PURE Evo SpecRacing 10.5T
91841     PURE Evo SpecRacing 13.5T
Nosram PURE Evo SpecRacing Spare Parts – Rotor and Ball Bearings
Nosram offers spare parts for the all new PURE Evo X12 SpecRacing brushless motor.
This is the original rotor in all Nosram Evo SpecRacing motors. The sintered spec racing 12.45mm rotor is a genuine Nosram spare part with highest quality and performance.
Also available are stock replacement ball bearings for the all new Nosram PURE Evo SpecRacing motor.
90637     PURE Evo SpecRacing 694ZZ Ball Bearing (2 pcs.)
90643     PURE Evo SpecRacing Sintered Rotor
Source: Nosram