Nosram BL Combo Shock 40/Storm Evo Micro 370 7T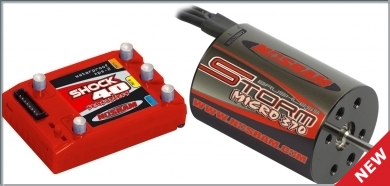 Get ready for the next evolution in brushless systems. Nosram proudly presents the new sensorless brushless speed control and motor micro combo. Enjoy marvelous sensored driveability with revolutionary sensorless system. Take profit of the know-how and experience gained by Nosram in years of successful top level racing.
Nosram brushless systems are the leading technology featuring extraordinary power and super smooth throttle response. Their brushless combos offer best performance for attractive pricing.
The Shock 40 speed controls and Storm Evolution Micro 370 motor is a super small and lightweight sensorless brushless combo which will amaze you with extreme power delivery and perfect driveability even without hall sensors.
90588     Nosram BL Combo Shock 40 / Storm Evo Micro 379 7T / 6900kV
Source: Nosram