Steven Hartson/Associated Victorious At Fall Classic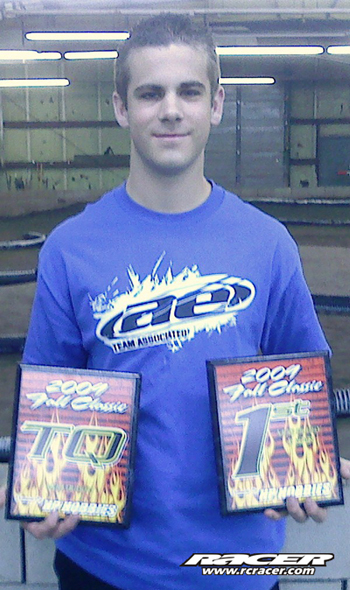 For the 25th year in a row, Hi-Performance Hobbies in Hutchinson, KS hosted the Fall Classic over the weekend of November 14 & 15 and with a record turnout for the 2009 edition the event was well received among local and out of state racers alike. Making the trek for Team Associated was California native, Steven Hartson.
With limited experience on tracks like the unique Hi-Performance surface, Hartson showed up ready to do battle with some of the top electric racers in the US including the "Colorado Connection" of Dustin Evans and Matt Chambers. Significantly down on experience compared to the two drivers, Hartson burned pack after pack on the track getting his rhythm and tyre selection just right. With big swings in ambient temperature and humidity, the high clay content track changed constantly and left even the experienced racers guessing on which tyre would work best.
The way the event is run, Saturday is only stock racing and Sunday is only modified. Choosing only to face in the modified classes, Hartson arrived early Saturday morning to assist any Team Associated racers that may need help with their vehicle and to prep his own cars for the following modified day. In the prestigious 2wd Modified Class, Steven took his B4 to the top qualifying position and looked to do something that hadn't been accomplished in six years; have an Associated car stand on the top step of the podium.
With great races among Steven, Dustin and Matt the six year drought came to an end. Hartson claimed the victory for Team Associated by winning A1 and A3. In the 4wd Modified class, Hartson again battled with the Colorado boys and came up just one step shy of a sweep, finishing second overall. Look for Steven to attend more out of state events and to become a staple fixture in A mains for years to come.
Source: Team Associated