Team Magic Success At Carpet Thrashnals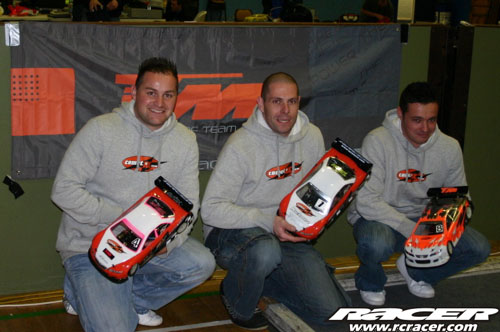 Another fantastic day for Team Comet RC at the Chippenham Carpet Thrashnals!
At the recent Carpet Thrashnals, Darren Potter, Timmay Langdell and I had a great days racing. I had the best pace of the 13.5 class, I set FTD in all three rounds and won both the A Finals! I was 'on fire' lol and Darren and Timmay had really good results too. The numbers for this round was up on last time at 100 drivers and the level of racing was very high.
So, I TQ'd 13.5, Darren qualified fourth in 13.5 and Timmay eighth in 10.5. I won both the A finals, Darren had third and fourth place finishes after fighting hard in the two finals. Tim also played a blinder with fourth and fifth place finishes.
The day went all my way, having learned what to do tyre wise from the previous round and finding a great set-up with the car I was the man to beat all day… The Tekin brushless systems Darren and I were using gave us a very competitive turn of speed. The car handled like a dream and that gave me all the confidence I needed to put in a great performance.
I think it's fair to say the Comet RC Team had a fab days racing! Well done guys! Shake and Bake!
Marcus Askell
Source: Comet RC