Thunder Power RC G4 Pro Race 50C Batteries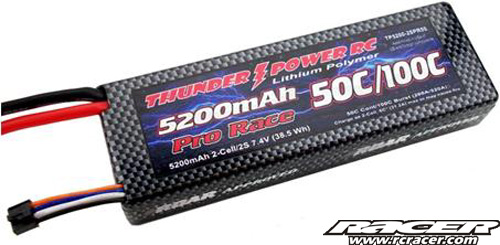 Thunder Power RC introduces the all-new Generation 4 (G4) Pro Race 50C series batteries; the most powerful batteries ever made available for pro and competition-level racing. In late 2008, Thunder Power RC made it clear that the #1 in Performance and Reliability from the aircraft LiPo battery market had landed in the surface battery marketplace. Release of the G4 Pro Race 40C series batteries resulted in more broken records and wins in less time than any other battery brand experienced before and set incredible new standards never before seen in ultra-low IR LiPo battery power delivery and longevity. Throughout 2009, Pro Race 40C series batteries were the batteries to have or be beat by at tracks world-wide.
Now Thunder Power RC is excited to introduce G4 Pro Race 50C series batteries offering another new dimension in power delivery for the hottest "mod" motors in the fastest and most competitive racing classes**. G4 Pro Race 50C series batteries are assembled using cells matched strictly by true internal resistance, capacity and voltage for maximum power and cycle life delivery. The result is up to 40% more power, 6-times better cycle life delivery and ultra-fast 6C* charge rate capability and with no loss in cycle life delivery. Plus, G4 Pro Race series batteries are the industry-leaders in cycle life delivery and longevity, up to 4 to 6-times better than other brands, offering long lasting value and performance with no discernable loss of power delivery after 300+ cycles! Charging at rates up to 6C* results in charge time of 10 minutes or less with no reduction in cycle life delivery meaning you can race almost non-stop. This industry-leading performance and cycle life delivery brings long-lasting value and the lowest "cost per cycle" available in the market today.
G4 Pro Race 50C series batteries are available in capacities from 4200mAh to 5200mAh and configurations from 1S 3.7V to 4S 14.8V, and all 1S 3.7V, 2S 7.4V and 4S 14.8V batteries are ROAR-approved for use at ROAR-sanctioned racing events. Race series batteries are available with your choice of Deans® Ultra Plug® or Traxxas® High Current Connectors. And best of all, Thunder Power RC batteries are backed by an industry-leading full 1-year warranty and 1-year of 50% off damaged battery replacement program coverage, and are still proudly assembled and supported in the USA.

The Thunder Power RC Exclusive G4 Chemistry Difference
Exclusive Generation 4 (G4) chemistry offers a realm of power delivery, cycle life delivery and ultra-fast charge rate capability never before seen or experienced. Thunder Power's new G4 series cells are built using the highest quality Japanese-made materials, including the latest in super-fine substrate (nano) technology to offer the lowest possible internal resistance (IR) and vastly superior power, capacity and cycle life delivery. The result is up to 40% MORE POWER and 6-TIME MORES CYCLE LIFE DELIVERY than previous generation LiPo batteries.
Plus they can be ultra-fast charged safely at rates UP TO 6C* WITH NO DISCERNABLE LOSS OF POWER OR CYCLE LIFE DELIVERY. These incredible features, coupled to their INDUSTRY-LEADING LOWEST WEIGHT AND HIGHEST ENERGY DENSITY plus their PROVEN ABILITY TO DELIVER UP TO 300+ CYCLES WITH NO LOSS IN POWER DELIVERY, offer long-lasting value and maximum performance.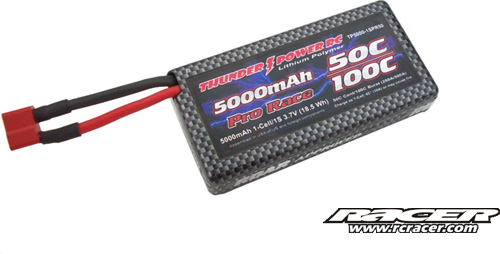 About Thunder Power RC
Since 2003, Thunder Power RC has been the world-leader in the advancement of Lithium Polymer (LiPo) battery power and charging solutions for a wide variety of RC, UAV/UAS and other applications. Continuing to set industry-leading standards in performance and reliability is why more pilots, drivers and professionals world-wide choose Thunder Power RC LiPo batteries over any other brand.
*When using approved charger and balancer combinations
**Please note, G4 Pro Race 40C batteries are still recommended for 10.5 and "milder"/higher turn motor class racing
Deans®, Ultra Plug® and Traxxas® are registered trademarks of W.S. Deans Co. and Traxxas respectively and used with permissions
Source: Thunder Power RC