Vampire Racing Products From X-Factory UK

The first new items are in the form of a new range 40C LiPo batteries being introduced just in time for the start of the 2010 season.
The first pack is the all new 5000mah 40C Hardcase stick pack (which replaces the older 5200 30C version – VR1005). The 5000 40C is based on the very successful and proven batteries already in the Vampire range with the advantage of even more power and punch for all stock and modified classes. As per all previous competition packs from Vampire this one features 4mm power plugs and a central 2mm balance port. These are due into stock this coming week and X-Factory UK are already taking pre-orders for the first batch.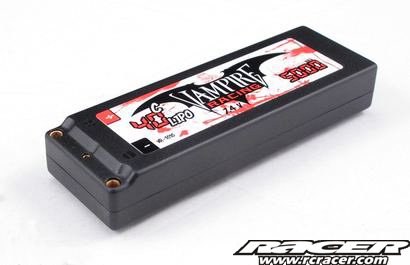 VR1010 – LiPo 5000mah – 40C Hardcase battery pack – 4mm plugs – UK RRP £79.99
There are also two more new LiPo's coming later this year in time for Christmas (due for release Mid December). These are the 4000mah 40C (replaces VR1004) and the all new 4400mah 40C saddle packs too (replaces VR1007). Full pricing and pictures on these are coming soon – pre-orders now being taken for the first batch. All batteries have been submitted to both the BRCA and EFRA for homologation for the 2010 season and should hopefully appear on the next available approval list.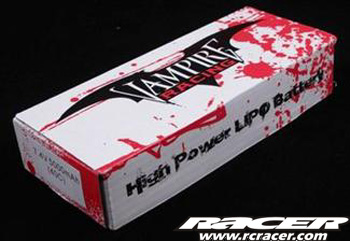 Coming Soon:
VR1011 – LiPo 4000mah – 40C Hardcase battery pack – 4mm plugs
VR1012 – LiPo 4400mah – 40C Hardcase saddle pack battery – 4mm plugs
Also new from Vampire is an all new range of "Duo" ballraces and complete ballrace sets. The Duo range are rubber sealed to optimise keeping the dirt and debris out for off road applications, each bearing is pre-treated with race spec bearing oil (no thick grease here) and are all of ABEC 5 superior quality. What's more each pack is superb value for money for both the dealer and customer alike. All bearings and bearing sets are IN STOCK NOW for immediate despatch.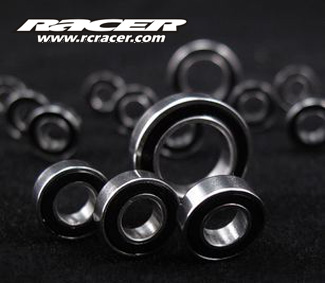 Two individual sizes are available – 3/8" x 5/8" (AE or X-Factory diff bearings) or 3/16" x 3/8" (AE, Losi or X-Factory common wheel bearings). Each pack contains 10 (yes ten) pieces and offers superb value for money.
VR3010 – Duo – rubber sealed 3/8" x 5/8" ABEC 5 ballraces (10) – UK RRP £11.99
VR3011 – Duo – rubber sealed 3/16" x 3/8" ABEC 5 ballraces (10) – UK RRP £11.99
There are also two bearing sets available in the Duo range to cover some of today's most popular buggies and trucks.
The first set is for the Associated B4 or T4 and includes 14 precision bearings to cover all wheels and the gearbox too. The second set is for the X-Factory X6, X6 Squared or X60 and includes 16 precision bearings to once more cover all wheels and the entire gearbox also.
VR3030 – Duo rubber sealed ABEC 5 ballrace set – 14 pieces (AE RC10B4 or T4) – UK RRP £16.99
VR3031 – Duo rubber sealed ABEC 5 ballrace set – 16 pieces (X-Factory X6, X6 Squared or X60) – UK RRP £18.49
For more information on these great new products please either visit www.vampire-racing.com or our X-Factory UK's own website at www.xfactoryrc.co.uk
Source: X-Factory UK