Acorn Racing 3800mAh 36C 7.4V LiPo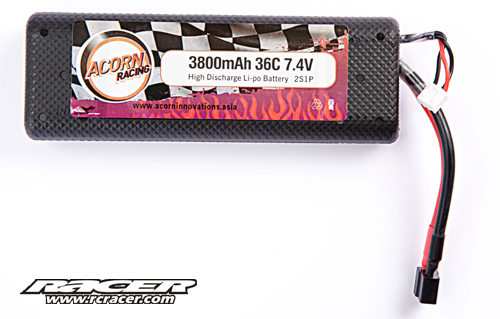 Following the release of Acorn Racing's 4200mAh Carbon Edition Race LiPo, Acorn Racing has added a new model to the range. The 3800mAh 2S1P Race Lipo with a consistent 36C burst! We understand that you do not need a very large capacity for the stock class but need the cells to give a very good punch in this class, this race version Lipo is specially formulated with Stock Racing in mind.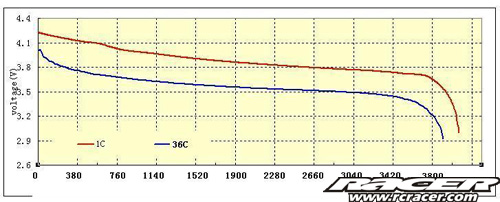 Very much like it's two older brothers, this version of batteries offers extremely high voltage over the traditional NiMh cells. It provides a very consistent punch on top of the burst thus giving true superior consistent sensational performance as an overall package. With a weight reduction in mind during the design, this battery is created with a significant overall weight reduction of almost 20 grams. This sturdy race series weighs a mere 208 grams. Like the earlier releases, this new range of battery is specifically designed and tailor-made to fit into almost all popular RC models on the market.
It is featured in a durable hardcase measuring (139x47x23.5mm) which is within ROAR Legal's specifications, in order to keep the cells from being damaged during use.
These new LiPos have the same dimension as a standard 6-cell Sub-C battery pack configuration and fits in all standard 1:10 and 1:8 scale on and off-road cars.
AR3800RH     Acorn Racing 3800mAh 36C 2S1P 7.4V Hardcase LiPo
Source: Acorn Racing