BullDog Clear Body for Losi 8ightT 2.0 From Pro-Line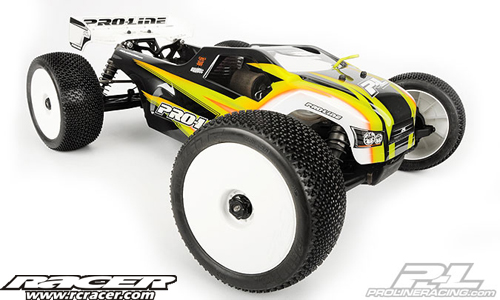 Straight from the design studios at Pro-Line into the hands of Ryan Cavalieri, Richard Saxton, Billy Easton and Chris Jarosz at the 2009 Nitrocross World Championships, the BullDog body was an immediate success. "My truck just works better-more steering, more predictable and faster lap times. The narrow design allowed me to see what my truck was doing which made tuning even easier at Nitrocross, says Ryan Cavalieri. We couldn't agree more. In fact, the body worked so well that Ryan went on to put the fastest lap time down in the final, the fastest average lap thus giving him the 2009 Nitrocross World Championship title in truck.
It's rare that a product comes along right out of the gate and can have such an impact on performance, especially a body design.

Features:
Made with Genuine GE .060 lexan

Bull nose front end increases corner speed

Elongated bed increases air flow to wing

Overall down force greatly improved over traditional 1:8 truck bodies

Head over engine exposed for easy temp checks and igniter accessibility

Paint then peel overspray film, sticker sheet, and window masks included

What's included:
BullDog Clear Body (1 pc)

Decal sheet (1 pc)

Window mask included (1 pc)
3320-60     Pro-Line BullDog Clear Body For Losi 8ightT 2.0
Please note: All bodies are sold in crystal clear lexan and are painted for advertising purposes only.
Source: Pro-Line