How To Run RC Cars In Winter
Bashing around in snow and ice can be a lot of fun if you take care of some important precautions. Unfortunately not every RC Car is designed to run in 'difficult' conditions like ice, snow and a mixture of both. It takes some preparation and maintenance afterwards to keep your expensive ride in the best possible condition. We now what to show you the do's (and therefore the don'ts) of running an RC Car in winter time.
Generally
Those of you who live at places with 'real' winter may know the difficulties that cold and wet weather has to offer and what they can do to your real car: empty starter batteries, frozen keyholes, steamy window and brittle plastic and rubber parts. All this and many more may await you and your RC Car too. Well, minus the keyhole thing maybe…
Brittle Things
The reinforced plastic that is used on most RC Cars tends to become brittle in low ambient temperatures. This comes into play on some cars more than on others given the amount of 'fibre' that is used amongst other things that have influence in the characteristics of plastic. You can overcome most of the problems created by plastics when using alloy parts during the cold months but these can cause you other problems instead as they tend to bend instead of breaking.
Another problem with cold temperatures is that oils and greases start to thicken up although many manufacturers claim their products wouldn't! This is simply not true as silicone oils and normal greases generally tend to thicken up in low temperatures. This may not be the case with some of the high-tech stuff that is used in the automotive industry but that's not used in our dampers!
If you experience the oil in the dampers is thickening up try to use thinner oil. If for example a 40WT oil was good during warm weather use a 20WT when it becomes cold. You can also change differential and transmission greases but these normally become thinner after the first couple of minutes when the (nitro) engine start to heat up the chassis and everything attached to it.
The same applies to the oils that are part of the model fuel. This also starts to thicken out near sub zero temperatures. Please always store it away from frosty temperatures.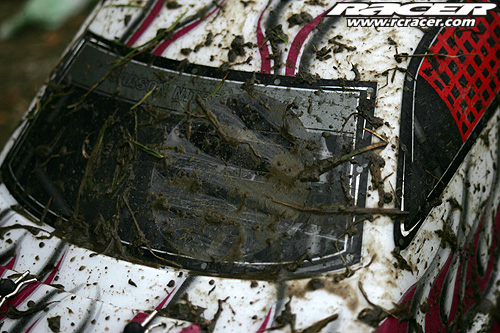 Putting tape over the fuel tank openings prevents the cold air from reaching the nitro engine which is a good thing in this particular case
Getting Warm
If you ever tried to start a nitro engine in cold weather you may know that this is a bit of a task. Because the different materials of piston and liner that expand or shrink at different rates a nitro engine tends to clamp or even lock under extreme low temperatures. This applies even more if you try to start a brand new engine that has never run before.
To overcome this problem try to store your nitro buggy or truck in the warmth of your car until the very last minute before you want to fire the engine up. This helps to keep the engine's components on a certain temperature.
3copy
If you have access to a power source you can use a hairdryer or heat gun to heat up the engine's crankcase and heatsink. You will instantly notice how easy a pre-warmed engine fires up compared to a cold one. The warm up period will of course take a bit longer and the engine is likely to run at lower temps compared to what you may have experienced during the summer. You can choose a 'hotter' glow plug if you wish as the cold temperatures may have an effect on the glow plug in terms of their ability to ignite the fuel/air mixture.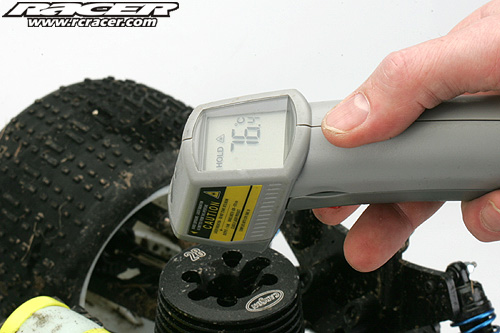 Make sure the nitro engine runs at a proper temperature of around 105 to 110 degrees Celsius on the glow plug. The 76 degrees Celsius we have here are definitely too low
Avoid leaning the fuel mixture too much to let the engine take some heat! It is very likely that you run the engine much too lean in cold weather. It is better to cover the venting holes in the body with tape (or to use a special 'winter body' without any unnecessary cut-outs) or to wrap thin aluminium tape around the upper parts of the heat sink to protect it against the cold air stream.
Make sure you protect the engine and the carburettor with a good quality after run oil after usage.
Weak Batteries
Another problem associated with cold temperatures are weak batteries. This applies to your road car as well as to receiver batteries in RC cars. Get rid of those dry cell battery holders supplied with your radio or RTR car and replace it for a proper five cell pack with soldered single cells for added safety, performance and happiness. Also make sure you use good quality connectors, this is something we have already taken in on one of our previous How To features.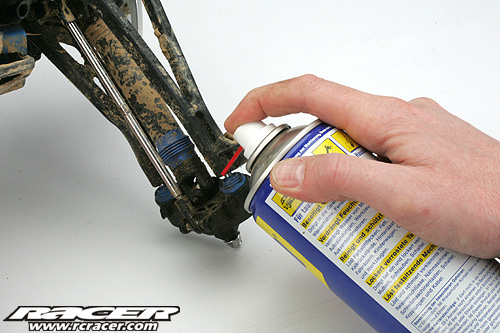 Use spray oil like WD40 on all metal parts as well as the suspension components. Repeat before and after usage to help protect the parts from becoming rusty. The oily film also makes cleaning much easier
Rusty Cage
Ice and snow are frozen water and water is something that does not match very well with the electronics of your car but also can harm all of the unprotected metal parts on your chassis, suspension and drivetrain. Things like bearings, drive shafts, hinge pins, screws and many more tend to rust in no time when the chassis is stored wet and dirty. Dust and mud have the tendency to let moisture stick to metal parts much longer which leads to surface rust that is likely to harm all metal parts as well as making your ride look filthy.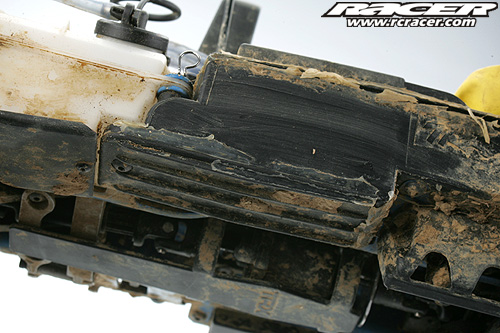 If your car is equipped with an RC box just seal the lip with some silicone and you are good to go. There is no need to wrap the components separately
To overcome this clean your car thoroughly beforehand and spray the suspension parts like wishbones, hinge pins, camber links etc. with thin oil like WD40 or similar. Wipe away excessive oil with a thick paint brush. The light oily covering makes it less easy for moisture and dirt to stick on the suspension and chassis parts. This helps with cleaning afterwards as well as prevents metal parts from becoming rusty. When you have cleaned and dried the car after use with the help of an old paint brush, paper towels and/or a hairdryer take the oily paint brush you used before and wipe all parts of the suspension again to make sure all parts are protected against rust during storage. Also your ride is ready to go the next time you'd like to use it. And one last hint: never store your car in the cold or damp garage. Always use a warm but still well ventilated area to store all of your RC car stuff.
Water
What's the main problem with driving in icy and snowy conditions? Right,
water. Generally it's the same problem come winter or summer but at times water tends to hide itself. Molten snow has the tendency to find its way into the RC box as steady as rain during the summer months does and therefore protection is needed as all sorts of electronics don't like water at all.
The industry offers special water protected receivers, servos, speed controls etc. but these may be expensive at times so what to do if you like to protect the 'cheaper' components of your RTR?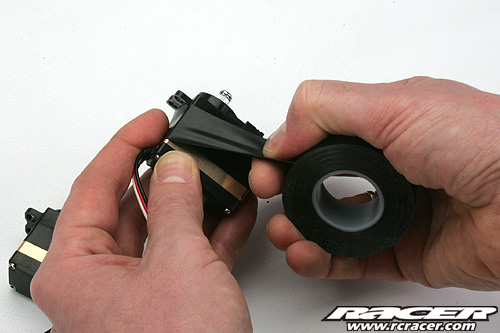 Not every servo is protected against water therefore we recommend to wrap the casing with electric insulating tape to avoid water entering the case
Protect the servo casing by wrapping electric insulating tape around the case separating lines, apply a drop of silicone where the wire leaves the casing and put an oiled foam ring over the upper gear where the servo horn attaches.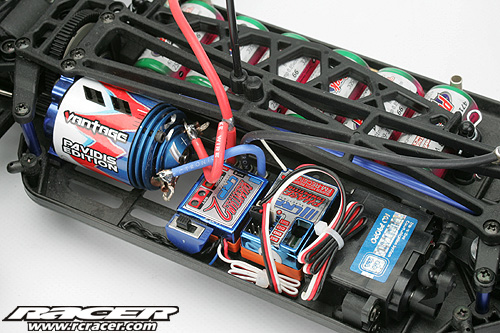 This is a typical 1:10 scale 4WD buggy. The many openings in the chassis as well as the unprotected electronics department make it necessary to protect everything thoroughly if you decide to run cars like this in ice and snow
If you race electric cars during the winter of course the motor needs special attention. You can try and fit one of those rubber boots over the motor can where the wires attach to the end bell but make sure that you wipe away any condensation that has build up after every run. Otherwise it is very likely that the internals of the motor start to rust. Also water on the brushes make for much faster wear of both the brushes and the commutator. This of course does not apply to brushless motors but still make sure you dry them thoroughly after every run.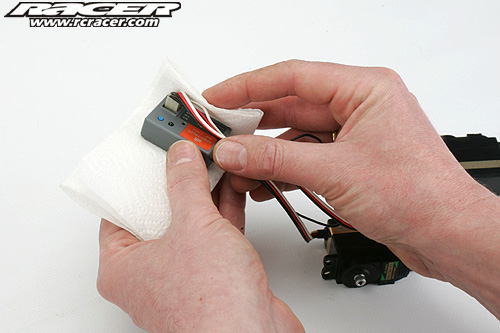 To protect the electronics from condensation wrap them in paper towels before putting them into bags or balloons. 2.4GHz receivers are ideal for this task as you don't have to worry about crystal changes. It's a fit and forget!
To protect speed controls and receivers we would advise to first wrap them with a layer of paper towels and then to put them into a rubber balloon or similar. The paper towel will absorb any condensate that may occur due to the temperature differences inside and outside of the balloon. You can also use small lightweight boxes to put the receiver and speedo in if you find enough space on the chassis plate, but again we would advise to use layers of paper to catch any moisture in there. When you are finished for the day unwrap the components and check for any moisture within the balloons or boxes and remove it if present.
No Need For Cooling!?
When running a nitro car at low ambient temperatures it is not easy to get the engine up to temperature. To achieve this it makes sense to have a 'winter body' at hand that shows a minimum amount of cut-outs as this helps to keep cooling air away from the engine. You can also go an purchase a second hand heat sink, remove several of the cooling ribs and uses this instead of the full surface one as this also helps the engine to keep its temperature. If you do not wish modify anything on your engine then you can slide a ring made out of paper towels and duct tape over the heat sink. This also keeps away cold air from the engine's head. Try to adjust the engine temperature with this ring and avoid leaning the fuel mixture too much to keep the engine's temperature high as this can lead to a too lean carburettor setting and a destroyed engine!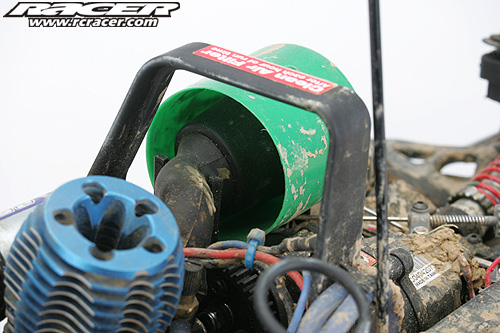 Wen using your nitro car in ice, snow an during rain use a special rain air filter or protect the usual foam one with a cover made out of a spray can cap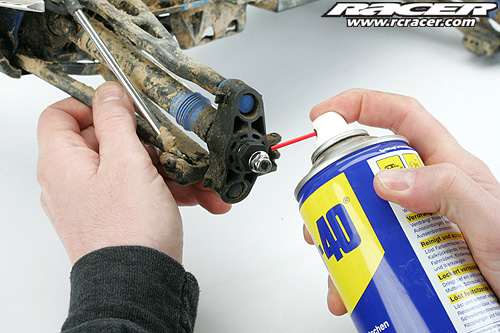 Use spray oil like WD40 on all metal parts as well as the suspension components. Repeat before and after usage to help protect the parts from becoming rusty. The oily film also makes cleaning much easier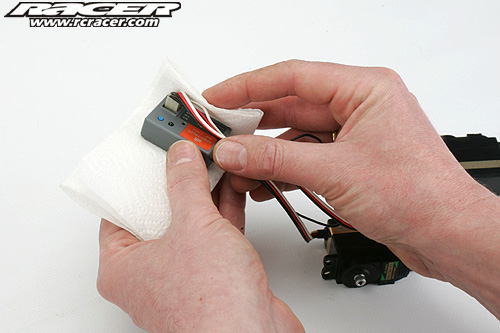 To protect the electronics from condensation wrap them in paper towels before putting them into bags or balloons. 2.4GHz receivers are ideal for this task as you don't have to worry about crystal changes. It's a fit and forget!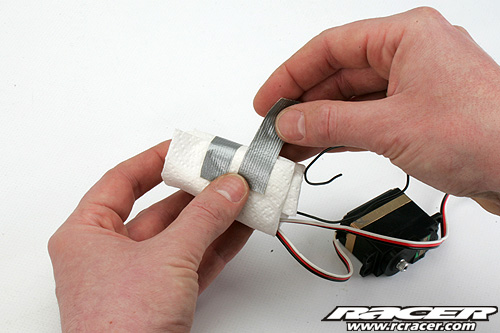 Secure the tissue with some tape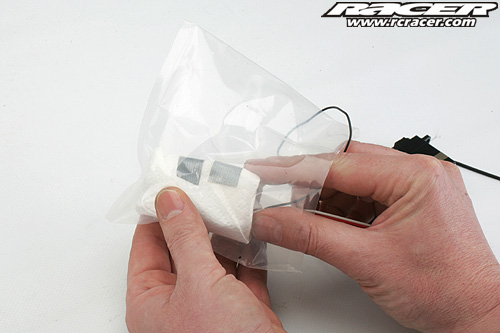 Now store everything in a balloon or bags normally used for spare parts etc.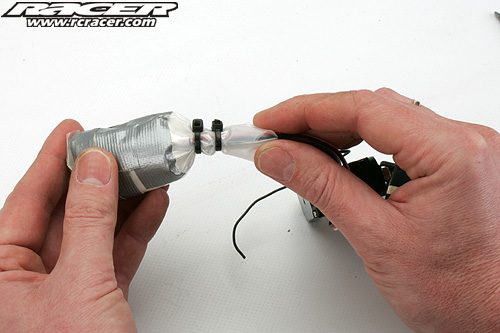 Close the opening with one or two cable ties. Additionally add some silicone to the opening to protect it from the tiniest rain drops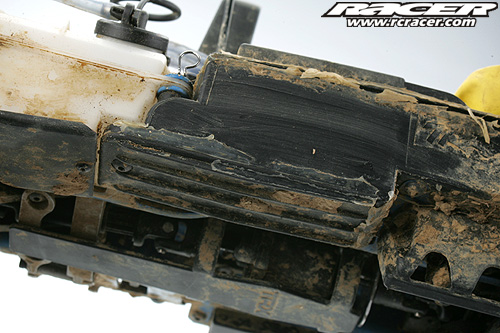 If your car is equipped with an RC box just seal the lip with some silicone and you are good to go. There is no need to wrap the components separately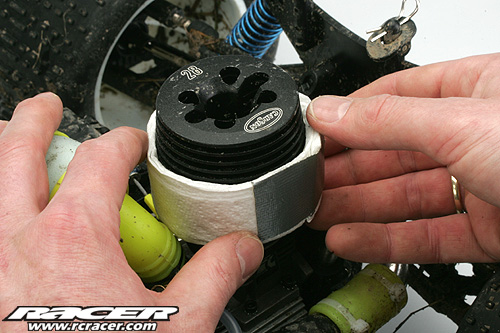 If you can not get enough temperature into the engine cover the cooling head with a ring made out of tissue and duct tape. Regulate the temperature by covering more or less of the cooling ribs of the head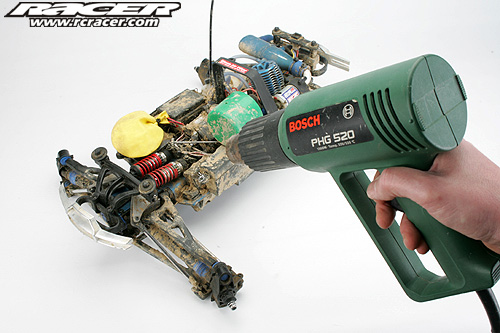 It's necessary to dry the car as soon as possible after the run to avoid any rust on the metal parts. Use a hair dryer or heating to dry all parts of the car. Avoid excessive heat as this can melt the plastic parts! Cover with suspension and chassis parts with WD40 oil after drying and store the car on a dry and well ventilated area