Ilia van Gastel Returns To Team Serpent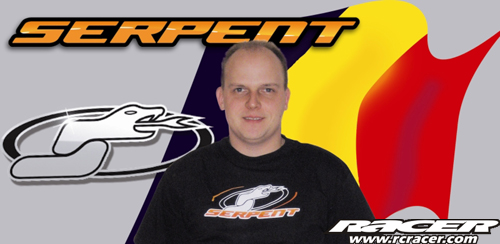 Serpent is proud to annouce the return of Ilia van Gastel from Belgium to Team Serpent in 1:8 scale on-road. Ilia will be racing the Serpent 966 with main focus for 2010 on the European Championships in Italy and in 2011 the Worlds in Florida, USA.
Here is a brief interview with Ilia…
Hello Ilia, first of all welcome to the Serpent Team.
Thank you
What made you decide to run the Serpent 966 for 2010 ?
Well, a few things, I was part of Team Serpent before, so I kind of know the team already. And I think the 966 is really good, Michael did a good job on this car, seems to be a perfect compromise between steering, grip and evenly important, it gives the engine breathing room to give his full potential.
Which engines will you use ?
I will continue using the Team Orion engines, I think the performance is really good, and the latest version for 2010 will be even better.
Which races do you plan for 2010 ?
Main race for the 2010 season will ofcourse be the euro's in Italy (locorotondo). Knowing Italy for their famous rc tracks, it will be highly competitive. Ofcourse the Efra races are also highly rated. The Dutch championship is also on my list, it will be one of europe's toughest national competitions with John Ermen (Serpent) Robin d'Hondt, Steven Cuypers, Rick-V also racing in that same competition.
Which is your favourite race-track ?
Actually, maybe it's a little surprising but the track from the 2006 European Championship in Sweden in very to my liking, technical but also very fast.
What is your best race-result so far ?
Well, I think that should be third place at the euro's, but for me even memorable are five Efra GP victories.
What do you do for a living ?
I work as a car mechanic, together with my dad. We sell cars, make repairs and bodywork. Do you have enough time off for racing and practise ? Yes that's not really a problem, ofcourse I have the weekends off, and if really needed I can take some days off work, to make the necessary preparations.
Source: Team Serpent