Losi 1:10 Night Crawler RTR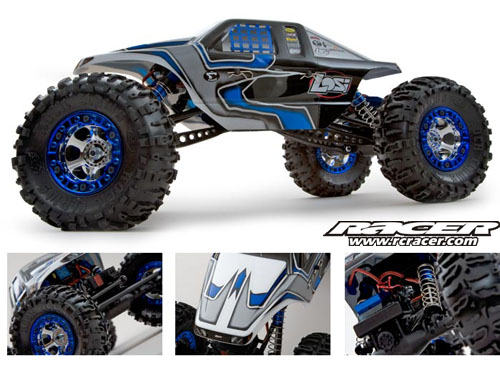 Crawling fun doesn't have to end when the sun goes down. With Losi's 1:10 Night Crawler RTR, anyone can hit the rocks any time, day or night. This ready-to-run crawler is outfitted with bright LED lights specifically designed for navigating rocky terrain after hours. Whether crawler drivers are new to the crawling world or experienced, they'll have a blast attacking the rocks all night long.
While other crawlers require some modifications before they're ready for the rocks, the 1:10 Night Crawler RTR is good to go right out of the box. Included is an electronics package with a LiPo compatible ESC that features voltage cutoff, so both the vehicle and battery will be protected.
Powering this crawler is easier than ever, a 540-sized crawler-specific 55T motor and high-torque metal gear steering servo will get it up and over obstacles in no time. Plus, a worm-gear drive with a smaller differential case gives increased ground clearance.
Better still, a Losi radio system with Spektrum 2.4GHz DSM technology delivers total control, with no interference. The fun with the 1:10 Night Crawler RTR lasts all day, and all night.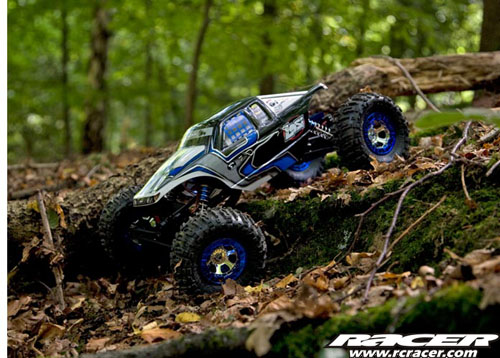 Night Crawler Features
The front and rear solid axle features a worm gear drive that acts as a brake when no power is supplied
The included ESC, with crawler-specific programming, accepts NiMh and LiPo batteries
All-metal CV front axle and center driveshafts provide superior durability to the driveline to handle the stresses of rock crawling
The included Losi radio system with Spektrum 2.4GHz DSM technology means there's no worries about radio interference
The included front and rear LED light set comes pre-wired and mounted to the chassis
100mm adjustable aluminium shocks provide durable, smooth operation and maximum suspension articulation without binding
The crawler features a low-center-of-gravity battery tray design that allows for multiple battery types – from NiMh and LiPo "stick" packs to any of the 2.2-inch Losi LiPo crawler battery packs
The moulded 4-link suspension setup minimises rear axle swing and provides more precise handling
True 3-piece 2.2 beadlock chrome wheels, with 12mm hexes, hold the tyre bead in place allowing tyres to be changed if needed – all without glue
National Champion 2.2 Losi Rock Claw tyres with foam inserts are constructed with Losi's blue compound and have the characteristics, grip and traction to scale even the toughest courses
The direct-drive transmission provides an ultra-low gear ratio for rock crawling and metal outputs for durability
The twin vertical plate chassis is anodised blue for a custom look
Zero Ackerman steering provides class leading performance with 45 degrees of steering throw
The competition-legal Grappler Pro body features realistic looks and functionality
Night Crawler Specifications
Type: Rock Crawler
Scale: 1:10 (2.2)
Length: 444.5mm (17.5 in)
Width: 250.8mm (9.875 in)
Wheelbase: 312.4mm (12.3 in)
Weight: 1.9kg (4.18 lb)
Chassis: Aluminium twin vertical plate
Suspension: 4-link
Tyre Type: 2.2 Losi Rock Claw tyres
Motor: Losi Night Crawler 55T/540-sized motor
Speed Control: Losi MSC12L 4-model Fwd/Rev LiPo-compatible ESC
Radio: Losi Radio System with Spektrum 2.4GHz DSM
Wheel Size: 2.2-inch beadlock
Shock Type: 4-inch aluminium with adjustable collars
Body: Pre-decorated Grappler Pro
You will need
7.2V NiMh or 7.4V LiPo Battery Pack
Compatible Battery Charger
AB0104     1:10 Night Rock Crawler RTR      RRP £259.99
Source: Horizon Hobby UK