LRP Quadra Pro 2 Charger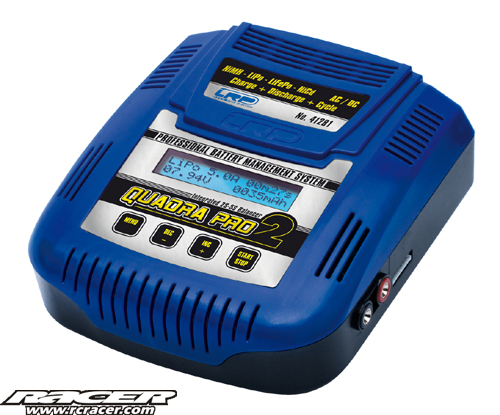 The second generation of the all-rounder amongst chargers is here! The World Championship winning Quadra Pro charger used by Lamberto Collari at the 1:8 WC 2009 just got better. The versatile functions are easy to use with the intuitive menu structure. Whether you want to adjust the parameters, to set your user profiles or to condition your batteries – the Quadra Pro Charger 2 is always a good choice.
LRP Quadra Pro 2 Charger Features:
Charge NiMH – LiPo – LiFePo – NiCd
Adjustable fast charge from 0.1 to 5.0A: 1-14 cells
NiMH/NiCd with adjustable Delta-Peak detection,
1-5 cells LiPo/LiFePo with automatic LiPo/LiFePo cut-off.
Cycle NiMH – LiPo – LiFePo – NiCd
Automatic Cycling Mode (Discharge – Charge – Discharge) for perfect conditioning of your batteries.
Discharge NiMH – LiPo – LiFePo – NiCd
Adjustable discharge current (0.1 to 1.0A) and discharge cut-off voltage.
Cycle NiMH – LiPo – LiFePo – NiCd
Additional Features:
Integrated LiPo Balancer: The LiPo-Battery Balancer is specially developed for the use with LiPo and LiFePo batteries. It automatically detects cell condition for all 2- up to 5 cell batteries. If the difference between the cells is more than 5mV the adaptation starts automatically.
Dual Input: Integrated AC power supply, worldwide use with 100-240V. DC input (11-15V) for flexible use with car battery.
Fully Adjustable: Intuitive program structure, as known from Pulsar Competition series, allows precise adjustment of all parameters (NiMH-NiCd-LiPo-LiFePo / Charge Current / Trickle Current / Discharge Current / Discharge Cut-Off Voltage / Delta-Peak).
User Profile Memory: 3 factory pre-set profiles which can be customised and saved in memory.
Blue backlit LCD Display: Two line 16 character laser-blue backlit LCD display acts as perfect user interface. Easy access to all performance and safety data.
Microprocessor controlled: Fully adjustable for perfect operation, maximum performance andhighest safety.
Multi Protection System: 100% protection against output reverse polarity, short circuit, input voltage error and over charge.
Plug in and charge: Includes all input (AC + DC) and output cables and connectors.
All-round Usage: Great versatility for all R/C battery types, no matter if used for gas or electric.
41281     LRP Quadra Pro 2
Source: LRP