Axial Welcomes Scott Hughes as Global Sales Manager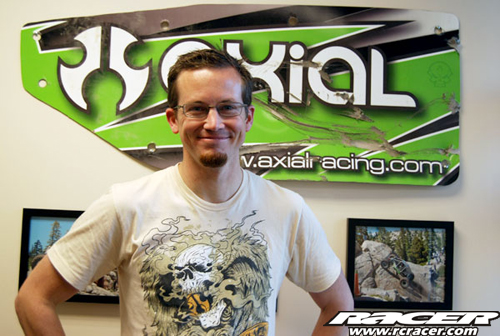 Axial has announced the addition of Scott Hughes as Global Sales Manager. In his new position, Hughes will be responsible for national and international sales accounts.
"We are pleased to welcome Scott Hughes to the Axial family", says C.E.O Jeff Johns. "His extensive experience within the RC industry on and off the track is an excellent match. We know that he'll be a major asset, especially with what Axial has planned for 2010 and beyond". Prior to joining Axial, Hughes spent twelve years at Pro-Line located in Beaumont, CA.
Scott Hughes released the following statement: 'Over the past twelve years, Pro-Line has provided me with guidance, encouragement, and the confidence that has helped me become who I am today both professionally and personally. During these years, we have faced some amazing challenges as well as achieved many accomplishments together. My final challenge at Pro-Line was the most difficult of all, which was the decision to leave the company.
It's with great honor that I write this and I would like to give a big "Thank You" to Todd Mattson, Tim Clark, Jessica Kelishes, John Kelishes, and to all of those at Pro-Line who worked with me daily. Their support helped to overcome all of those challenges together, and I will miss all of you. Please know that even though my time at the company has ended, our friendships will continue.
I was looking for new challenges and new accomplishments, and I found Axial. I'm proud to announce that I've joined up with them. It was a good fit and after several meetings with Jeff Johns C.E.O Axial, Inc, everything came together. Over the past few years, I've seen the company and team grow and Axial is a strong brand that has drive, determination, and commitment. My main focus will be sales, but with a well-rounded understanding of the radio control market, I'll be working in other areas as well. I'm excited to be a part of the Axial spirit and I thank the team for the open arm welcome.'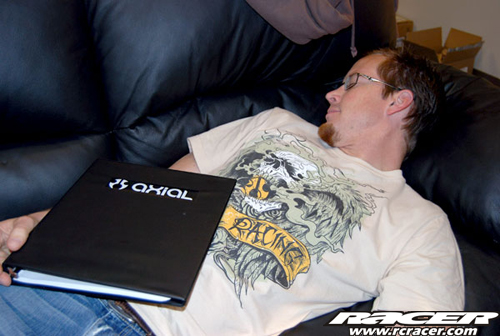 It looks as though Scott has settled right in…
About Axial
Founded in 2005, Axial, Inc. has quickly climbed to the top of the R/C market by offering a dynamic line of class-leading radio control chassis and accessories for the entire scope of the hobby, from novice users to competitors. Every component of our product line is researched and developed to offer superior performance, durability, and style. A true lifestyle brand, Axial is regularly involved in local and national events which allows us to keep our finger on the pulse of the RC culture. We're feeling the love in return, earning coveted awards including "Truck of the Year" (Radio Control Car Action 2008), "Best Product" (RCCrawler.com 2007 – Peoples Choice), and "Most Innovative Product" (RCCrawler.com 2007; RC Car Action 2008 – Peoples Choice).
Source: Axial Racing