Bloomfield Wins Herts Club Meeting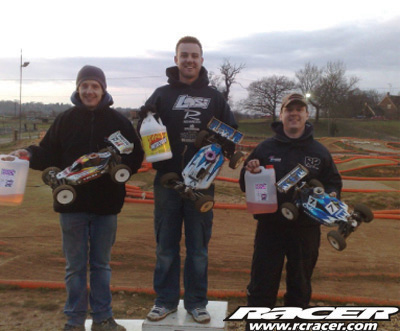 The UK weather has not been very kind to us this winter but the Herts Nitro Club worked incredibly hard over the past few days to clear and prepare a track. The result was a great days racing had by all who attended and so a great thank you goes out to the Herts Club.
In qualification it took the drivers a while to get used to the tricky conditions and settle into a safe quick pace. With everyone using the Losi XBT tyres the only choice was the compound, the majority of people settling for the Red Medium compound but Losi driver Darren Bloomfield found extra consistency and drive forward by changing to the Silver for the final. Elliot Boots came out on top at the end of qualification but in the final Darren Bloomfield took the lead early on and never looked backed.
Herts Nitro Club Buggy A Final Result
1.   Darren Bloomfield   Losi   Novarossi
2.   Karl Jackson   Mugen   Sirio
3.   Stewart Wilcox   Mugen   Ninja
Source: Horizon Hobby UK