Jon's Tamiya M05 Pro Mini – January 2010 Update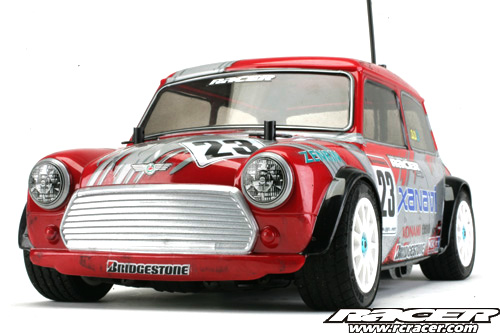 Having not raced anything competitively for a while, the Tamiya M05 Pro hit the office just at the right time as I had been persuaded into doing the British Mini Grand Prix held in Leighton Buzzard last November by Joe Brown, my trusty and faithful mechanic for my full-sized racing exploits with my Toyota MR2. Now seeing as I had a bit of a lay-off from racing RC cars, I was under the impression that I may well be a bit crap at it now, and the little Mini would need a bit of beefing up. Luckily a raft of option parts landed on my desk for the car too around the same time so I set to work…
Firstly I had the aluminium steering. This is made up from three Tamiya Hop-Up Option parts sets; the bellcranks, drag link and separate retainers. I also used some spacers in the track rod links after I had set them to the right length so that the plastic parts didn't slip on the threads when I whacked barriers flat out at every opportunity in a comedy fashion gently glanced barriers on apexes. Also to the same ends of strength and durability, some alloy front hubs were fitted too combined with some CVD style driveshafts. Beware though, these hubs also need the smaller 1050 sized bearings for fitment so you will need to source these too. Also a blue aluminium servo to bellcrank turnbuckle link for no other reason than I had one and it looked cool.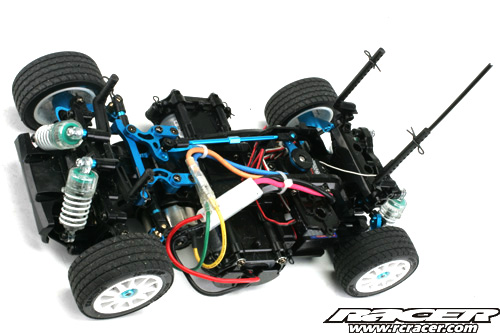 Next went on an alloy motor plate. Although we were running stock RS540 silver can motors, these still get a bit warm…and when you roast them they a) lose performance and b) whiff a bit. So this should stop that little problem occurring.
The rest of the M05 was left kit standard apart from the usual setup changes regarding shock oils etc., to suit the carpet track. Tyres used were Tamiya 60D M-Grips with foam inserts.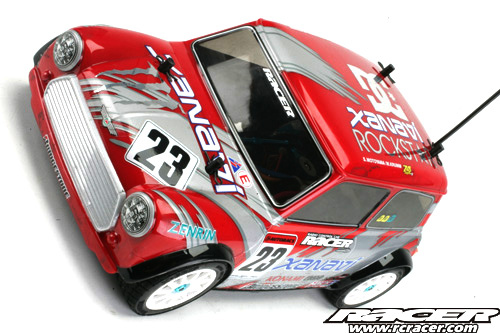 So how did it go? Well not too bad really, qualifying and finishing the final in the top five. I was lacking a little in straight line speed but handling wise, after a few adjustments was spot on. Basically from the outset, two things were apparent, it was very twitchy and the rear end seemed to want to go round corners faster than the front, overtaking it…the changes I made were a 1mm spacer to widen the rear track, cut down my steering rate/throw to 50% and put a load of negative expo on my transmitter settings to make it less twitchy. Lovely work, problem solved.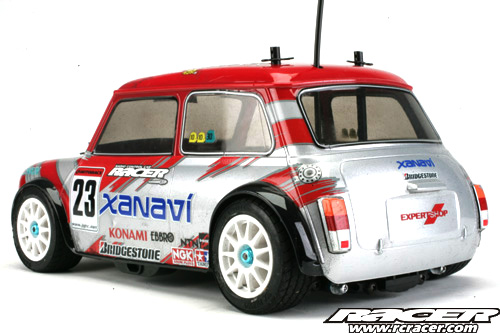 Racing these little Mini's is great fun and the British Mini GP is well worth doing if you fancy some low cost, fun racing. I'll be there again next year and details of the 2010 running will be posted on rcracer.com as soon as we get them…
Jon's Tamiya M05 Pro Specification
Car: Tamiya M05 Pro
Radio: KO Propo Vantage III Universe
Receiver: KO Propo KR-297FZ
Servo: Scanner RC SSV-9866MG
ESC: Tamiya TEU-302BK
Motor: RS540 Silver Can
Batteries: Ansmann 2000mAh NiMh
Setup
Front Shocks
Oil: 50wt
Spring: Tamiya Yellow
Pistons: 3 Hole
Rear Shocks
Oil: 40wt
Spring: Tamiya Red
Pistons: 3 Hole
Track
Front: Stock
Rear: 1mm Spacer
Front Toe-in: -1 degree
Ride Height F/R: 5mm/6mm
Option Parts Fitted
54195 Aluminium Turnbuckle Steering Rod – M05
54193 Aluminium Steering Post – M05
54192 Aluminium Steering Link – M05
54191 Aluminium Racing Steering Set – M05
54177 M05 Aluminium Front Upright – Blue
53646 Wheel Spacer – Blue
53597 M03 Assembly Universal Shafts
53255 60D Hard Inner Sponge – (M-Chassis) 4pcs
51239 1050 Ball Bearing Set – 4pcs
50684 60D M-Grip Radial Tyres – (1pr)
For more information on the Tamiya M05 Pro, visit Tamiya's website by CLICKING HERE