LRP Dominates DHI Cup 2010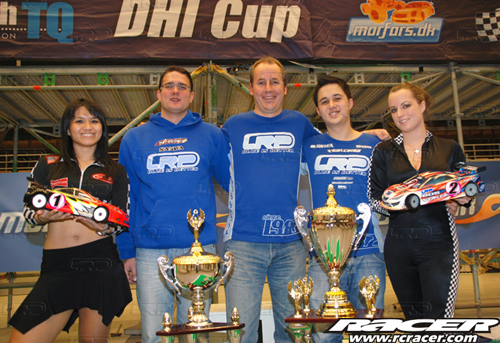 This years DHI Cup in Odense, Denmark was the 10th edition of the popular event that since it started has only become bigger and bigger. Today regarded as one of the most prestigious indoor events worldwide, together with the LRP TCM, the DHI cup attracts the biggest names of the touring racing scene and drivers travel all over the world to Denmark for the first big event of the year.
LRP entered this years DHI cup with maximum effort! LRP team manager Reto König travelled to Denmark together with LRP team drivers Ronald Völker, Christer Andersson, Alexander Hagberg, Juho Levanen, Freddy Südhoff and stock specialist Alexander Stocker. Fresh from the development department Reto brought the first batch of production SXX Stock Spec speed controls. In the popular stock class, the SXX Stock Spec was set to make the DHI Cup as its debut race.
| | |
| --- | --- |
| | |
New for this years race was also the introduction of the all new VTEC CPX carpet indoor tyre as controlled tyres, with its revolutionary "See-Through" wheel. The tyres proved to have both high-grip and a fantastic lifetime with drivers able to run the complete event on only one set of tyres with minimum wear and no performance loss. The special "See-Through" wheel that promises 100% controlled racing without cheating possibilities proved to be a great success once again. Not during any time at the event, there was any questions or doubts that any driver was cheating. The tech inspection had an easy job and could easily see if any modifications had been made. As a further feature, all drivers were offered special LRP wheel stickers in 2 different styles to pimp up their rides.
| | |
| --- | --- |
| | |
In the modified class it was Teemu Leino who set the early pace and dominated Friday practice running LRP SXX TC spec speed control in front of young LRP driver Christer Andersson and Ronald Völker. Coming into qualifications it proved straight away that it would be a battle for TQ between four drivers, Ronald Völker, Christer Andersson, Teemu Leino and World Champion Marc Rheinard. All these four drivers managed to TQ a round, but on top it was LRP driver Christer Andersson, who fresh from winning the indoor Euros warm-up race, was able to TQ two rounds and place himself on top of the grid for the finals. Second place on the grid went to LRP driver and Vice-World Champion Ronald Völker with Marc Rheinard directly behind him. Last years TQ, LRP driver Alexander Hagberg once again showed his consistency and managed to take himself to the prestigious A-final with a seventh. position on the grid.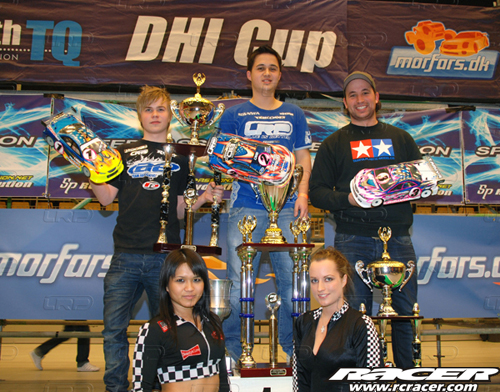 As the modified class A-finals got underway it was clear it was going to be a fight between the two top qualifiers Christer Andersson and Ronald Völker, both powered by LRP Vector X12 Modified Octa Wind motors and SXX TC spec speed control.
In the first A-final it was all set for Christer Andersson as he opened up a comfortable lead and was looking for an easy win. But a late mistake by Christer allowed Ronald Völker to slip by and take the leg one win.
In the second final pole man Christer Andersson got it all together, holding the lead from start to finish ahead of Teemu Leino.
In the last and deciding final Christer got of with a perfect start, same time as Ronald flipped his car and let some drivers pass him. However Ronald never gives up, and quickly gathered back his momentum and started to chase down his competitors. Ronald put in some stunning lap times and quickly worked his way up to second place behind Christer. With amazing power Ronald started to chase down the leader. As Ronald had closed in and put full pressure on the leader, Christer in front made the crucial mistake and had to let Ronald past into the lead. Up in front, Ronald never looked back and with a perfect drive crossed the finishing line as the winner of the DHI Cup 2010 Modified. Second position went to young LRP driver Christer Andersson, who showed amazing form with TQ and second place at this prestigious event. Third position went to World Champion Marc Rheinard.
The stock class with its large amount of drivers, the battle was on. Not only is the stock class a great class where drivers can display their drivers skills, but also a class where the equipment is a deciding and very important factor for success. The DHI Cup saw the highly anticipated debut of the LRP SXX Stock Spec. Many drivers have waited for this new speed control and to see how well it handles against its competition.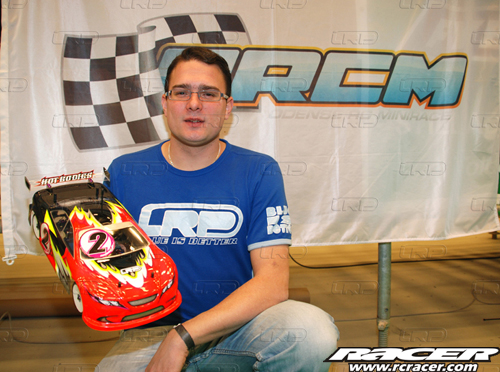 On top of the stock class after qualification it was LRP driver Alexander Stocker who powered on with his new LRP SXX Stock Spec and won four out five qualification rounds.
LRPs new SXX Stock Spec was an immediate success and dominated qualifications with four out of the top five drivers using the new stock spec speed control for the first time.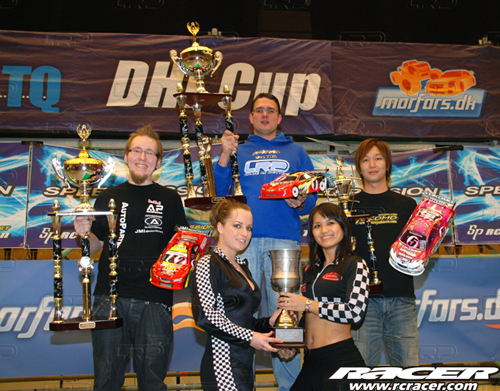 The A-finals were just as exciting as the modified A-finals. In the first final Alexander Stocker converted his pole to a comfortable win. In the second final Alexander Stocker experienced big problems with his car, which later was found to be caused by a broken diff. Winner of the second final was Swedish driver and last years winner, Tommy Bergfelt who with the win made sure all tension was kept for the third final.
But the excitement was only for a short while as both contenders clashed on the second lap and both fell back down the field. In the front it was LRP powered driver and Ronald Völker's mechanic Yukijiro Umino who took a hold of the lead and never let it go for the leg three win. With both Alexander Stocker and Tommy Bergfelt finishing with a disappointing leg three result and with both a 1-2 finish each, the overall winner had to be decided by who had the fastest winning time. And with a five second faster win it was LRP driver Alexander Stocker, who at his first visit to Denmark and the DHI cup, won the overall stock class title.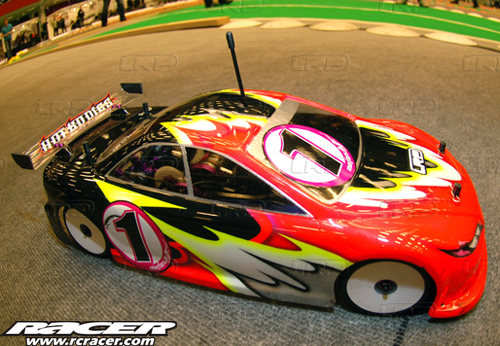 The DHI Cup 2010 was a fantastic event for LRP with TQ and win in both classes, titles by Ronald Völker and Alexander Stocker and a successful debut for both the all new LRP SXX Stock Spec speed control and the VTEC CPX carpet indoor tyre.
Source: LRP