Neumann Does The Petit Double
Report Tom Stacey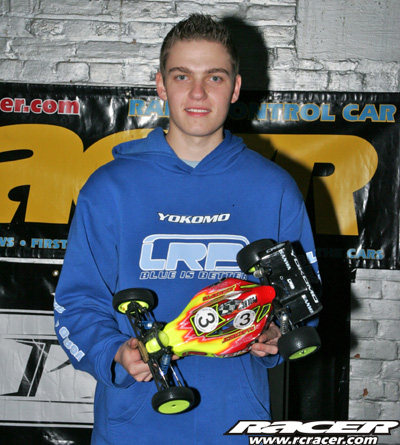 Wins for Jörn Neumann and Richard Lowe as the Petit RC series returned to the UK for its fourth instalment.
The Petit RC invitational race returned to the indoor Maritime Raceway in Kent for the second year running, welcoming drivers from Europe and Japan to compete for the title of Petit RC champion 2010. Lee Martin was looking to defend his 2WD title, as was Tony Truman in 4WD and Richard Lowe in the stadium truck class.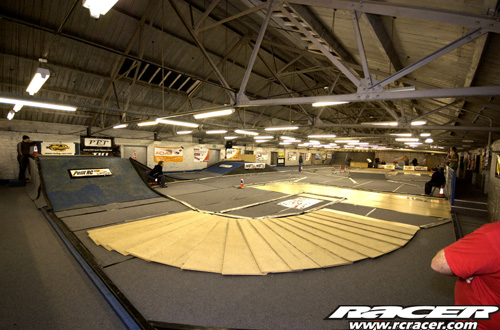 The track had been changed and calmed down a little from 2009, whilst still keeping the infamous 'wall of death' and corner tabletop that sorted the men from the boys! The opinion from the drivers was generally very good, although the choice of FTD for qualifying was something that most are not used to these days, even though the very consistent track lent itself well to such a qualifying system.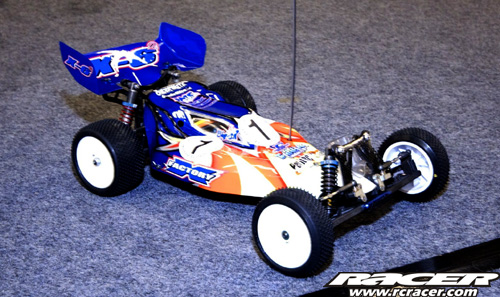 As this was a two-day event, Saturday would be the longer day, encompassing both the truck and 2WD classes. After four rounds of qualifying, Ellis Stafford took an impressive FTD in the last round to put him on pole, whilst Richard Lowe put his truck at the front of the grid. Sadly, Ellis could not turn round his pole into a win as Germany's Jörn Neumann dominated the first two legs of the 2WD A final to take an awesome win from Lee Martin driving an Atomic Carbon CR2 with Kyosho's Shin Adachi coming home in third. The truck class was once again dominated by Richard Lowe with his Associated T4, while Shin Adachi finished behind him in the Kyosho Ultima RT5 and the X Factory X-60 of Bruno Heremans completed the top three.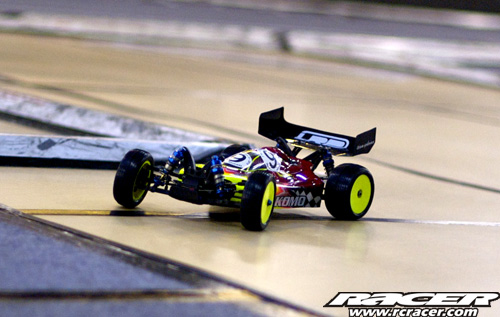 On Sunday, the 4WD class saw 2WD winner Jörn Neumann get the FTD to start on pole – the only Yokomo chassis in the top ten. Jörn then left it down to the third leg of the A final before cementing a victory in the 4WD to add to his five previous Petit RC wins! His effortless driving style put him well ahead of second place Lee Martin's Tamiya and Richard Lowe driving a BJ4 in third.
For a full report including all the new kit spotted in the pits by Racer's spies, please make sure you pick up the April edition of Racer Magazine.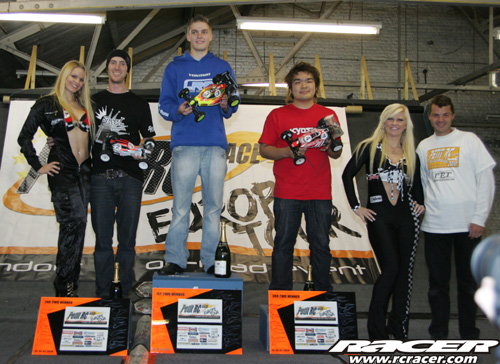 2wd A Final – Result
1   Jörn Neumann   Associated B4
2   Lee Martin   Atomic Carbon CR2
3   Shin Adachi   Kyosho RB5
4   Richard Cree   Kyosho RB5
5  Tom Cockerill   X Factory X-6 Squared
6   Nathan Waters   X Factory X-6 Squared
7   Ellis Stafford   X Factory X-6 Squared
8   Tony Truman   Associated B4
9   Yannic Pruemper   Durango DEX210
10   Simon Willetts   Kyosho RB5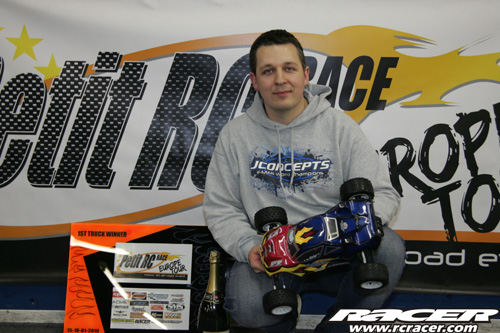 Truck A Final – Result
1   Richard Lowe   Associated T4
2   Shin Adachi   Kyosho Ultima RT5
3   Bruno Heremans   X Factory X-60
4   Ellis Stafford   X Factory X-60
5   Cyril Baldini
6   Matt Owen
7   James Helliwell
8   Dan Greenwood
9   Stefan Mesker
10   Ben Hubbard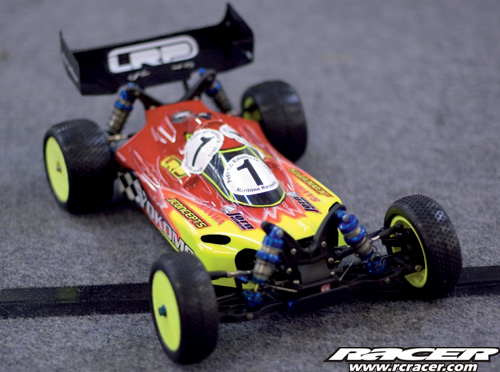 4WD A Final – Result
1   Jörn Neumann   Yokomo Bmax4
2   Lee Martin   Tamiya TRF 511X
3   Richard Lowe   JConcepts BJ4 WE
4   Shin Adachi   Kyosho ZX-5 FS
5   Richard Cree   Kyosho Lazer ZX-5 FS
6   Cyril Baldini   Durango DEX410
7   Simon Moss   Schumacher CAT SX
8   Tony Truman   Associated B44
9   Elliott Boots   Associated B44
10   Nathan Waters   Durango DEX410