Nosram Pure Evo Octa Wind – 4.5 And 5.5T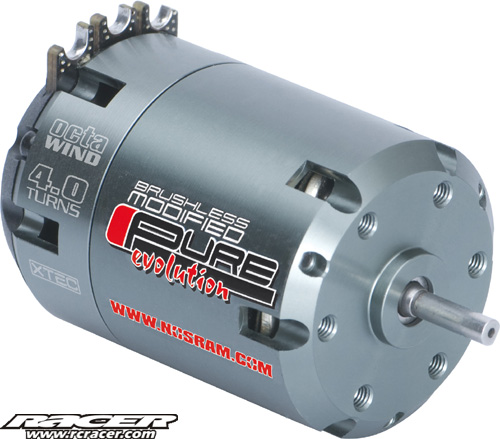 Here is the next generation of Nosram's World Championship winning Pure evolution technology. Nosram new Octa-wind modified motor features a revolutionary eight time winding (Octa). The new winding improves the motors power performance and lower the motors heat development and resistance – higher efficiency and more power.
State of the art components like the all new world champion XTEC X12 competition teardown, PreciSensorTM system, extra-thick copper winding and a special low-resistance design makes the Nosram Pure Evolution extremely powerful and efficient.
Features
Dismountable – Machined 7075 T6 aluminium can, short/lightweight design and maximum airflow.
Easy Solder Design – Heavy copper,multilayer PCB for lowest resistance.
PreciSensorTM System – Revolutionary precise sensor positioning for best power, throttle feel and efficiency. Fully adjustable and replaceable.
Reproducible Timing – Timing adjustable in clearly defined, reproducible steps with the new moulded timing insert for same result every time.
O-ring – Dampening and optimised bearing size for vibration free operation.
12.5mm magnet – All new sintered 12.5mm magnet size and grade, for best efficiency and mid-range torque, and new high-strength shaft.
New packed stack – With minimised core losses for lower temperatures and higher efficiency.
90683     Nosram Pure Evo – 5.5T Octa Wind
90693     Nosram Pure Evo- 4.5T Octa Wind
Source: Nosram