Novak Smart-Stop 2-Cell Li-Fe Battery Cut-Off Module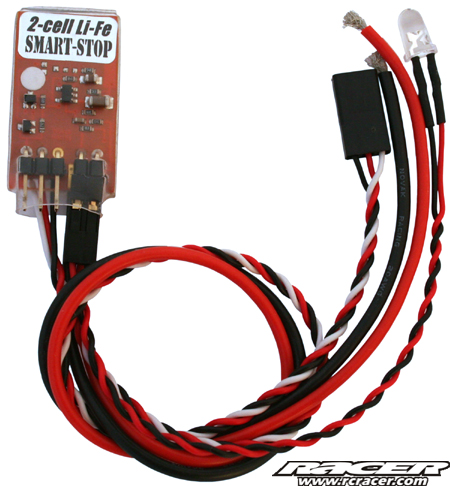 With Li-Fe batteries' increasing popularity, Novak has designed the Smart-Stop 2-Cell Li-Fe Battery Cut-Off Module (#5475) to work with the batteries' lower recommended cut-off voltage and protect drivers' battery investment. The Smart-Stop Li-Fe Module connects between the receiver and speed control, monitors the battery pack voltage, and prevents the batteries from going below the critical safety voltage level.
The first Li-Fe Smart-Stop Cut-Off Module uses a combination of throttle interruption and a visual cue from a remotely-mounted, ultra-bright blue LED. If the vehicle is run beyond the warning period, the Smart-Stop Cut-Off Module will bring the motor to neutral while leaving steering control intact.
The Smart-Stop features a One-Touch Set-Upâ"¢ button for accurate and complete ESC setting control, and a 6-inch replaceable LED harness.
The versatile Smart-Stop is compatible with all brushless and brushed speed controls that do not include built-in Li-Fe battery protection, and 2-cell Li-Fe battery packs, including MaxAmps Green Series Li-Fe Packs.
#5475    Novak Smart-Stop 2-Cell Li-Fe Battery Cut-Off Module
Source: Novak