Pro-Line Suburbs 2.2″ 4WD Off-Road Buggy Front Tyres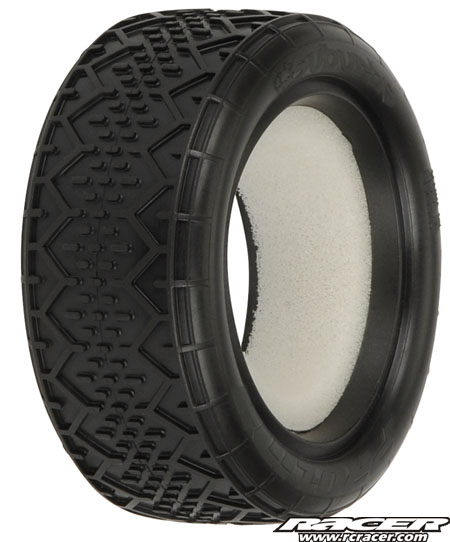 The 2008 ROAR National Champion tread and compound is now available for your 4WD buggy front end. Introducing the Suburbs 4WD front tyre in Pro-Line's M3 (Soft), new MX (Blue-Groove/High Heat) and MC (Clay) compounds.
At the 2008 ROAR 1:10 Off-Road Nationals, Ryan Cavalieri and Jared Tebo dominated the 2WD and 4WD Mod Buggy classes with the Suburbs, now you too can have the same performance they had right out of the bag.
Features
Available in M3 (Soft) and new MX (Blue-Groove/High Heat) and new MC (Clay)
National Championship winning compound and tread design
Inner and outer radius rib tread for increased corner holding and predictable side-bite.
Internal carcass webbing resist tyre expansion under acceleration and deceleration
Internal sidewall ribbing maintains sidewall structure in extreme traction conditions for greater corner control
Tread height is predictable, aggressive, and long-lasting for use on a variety of blue-groove track and surfaces where you would typically run soft compound tyres
Single stage firm foam inserts
Pro-Line branded laser etched sidewall detail
Made in the USA
What's Included
Suburb 4WD front tyres (2 pcs)
Single stage firm foam insert (2 pcs)
M3 (Soft) Compound (green dot)
Perfect for those loose dirt track wet or dry.
Works great for cooler track temperatures.
MX (Blue-Groove/High Heat) Compound (double orange dot)
High-heat/blue groove compound
Works best on clean surfaces
Long wearing on the most abrasive tracks
Forms to track surface for unmatched predictability
MC (Clay) Compound (purple dot)
Great for indoor clay surface
Prefers low track temperatures/wet surfaces
Receptive to the use of traction additives
"I was amazed at how well the M3 compound performed at my local track. Never before has a tyre outperformed the Hole Shot until now. It's the new tyre of choice for my local track" team driver Chad Parks.
"The MX compound is amazing. I race at a super high bite, high heat, blue-groove track and the MX compound outlasts and outperforms anything else I've tested" says Pro-Line team driver Scott Spears.
"I've run every clay compound tread on the market. By far, the new MC compound from Pro-Line was way beyond anything else I have ever ran. I know that you too will experience what I did on clay with the new MC compound" Eric Schutt, Pro-Line enthusiast.
8208-02    Pro-Line Suburbs 2.2″ 4WD Off-Road Buggy Front Tyres M3 (Soft)    MSRP: $14.50
8208-16    Pro-Line Suburbs 2.2″ 4WD Off-Road Buggy Front Tyres MX (Blue-Groove/High Heat)    MSRP: $14.50
8208-17    Pro-Line Suburbs 2.2″ 4WD Off-Road Buggy Front Tyres MC (Clay)    MSRP: $14.50
Source: Pro-Line