Tamworth Tiny Terrors!
BRCA Micro Nationals – Round 4 – Tamworth
Report by Cris Oxley

In The Pits
The pits at Tamworth were buzzing with excitement all day with new chassis and electrical layouts a plenty!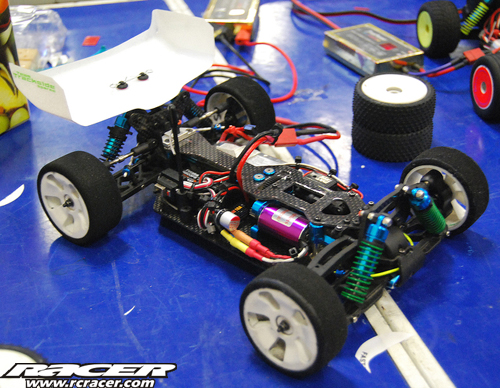 Craig Harris' prototype EXOTEK/LRP Shark ST
Previous Micro Champion SMD's Craig Harris made his return to competitive micro racing with his prototype LRP Shark. Craig's Shark ran a modified slipper clutch and a motor mounting layout similar to the Associated B44 to optimise the weight distribution and handling of the car but with only a few minutes of run time on the new chassis even Craig was unsure as to whether his fettling would reap him any rewards.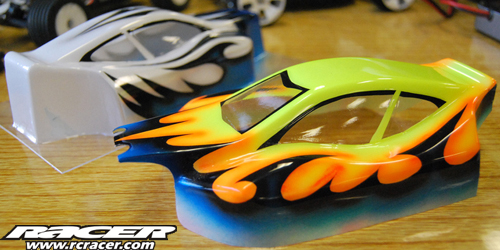 The new Phat Bodies Bolt as seen in the pits
Dan Harding, Section Chairman Cris Oxley and Frogger Product's Carl Venter had received their new extended Shark chassis' from Santa over the Christmas period and were keen to get out for practise to see if the extra 20mm that the new chassis offered them would make a difference on the carpet.
2WD Qualifying
Once again EMS Racing's Danny Conway walked the 2WD qualifying with his "2WD" LRP Shark ST and looked set to wrap up his easily won Championship in the finals.
Thomas Graham and TrakPower's Craig Harris tussled for 2nd place on the grid throughout the day with Thomas' homemade 2WD taking the spot in front of Craig's near standard ZT2.
Mark Everitt's 2WD Shark kept the challenges of both Gavin Stephenson and Tekin's Dan Osborne at bay to take 4th place whilst Trackside Spare's Luke Knight, running a NiMh powered ZT2, ventured outside the Welsh border to qualify in 7th overall. Cris Oxley, John Timberlake and Michael Spindley rounded out the 2WD top 10.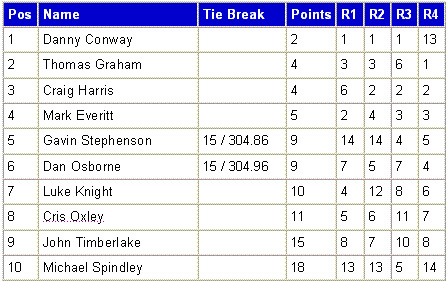 4WD Qualifying
The pressure was on McDonald's favourite patron, V-Design's Mark "Sausage McMuffin and a coffee please" Stiles as he knew full well he needed to bag as many points as possible to ensure that his flying start to the Championship was not in vain.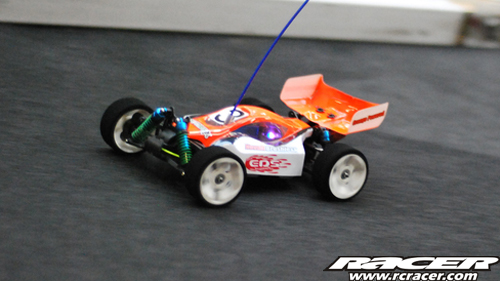 Rippin' it up on the Tamworth carpet!
With Microtech Racing's Keith Robertson relishing in the fact that the track was full of additive from an unfortunate on road meeting held the afternoon before, it would be down to whom could cope with the change in grip levels across the track the best.
Starting out on rubber tyres proved beneficial for Trackside Spare's Craig Harris who seemed to be the only person not suffering for the soaked carpet. With the rest of the field struggling to find lines avoiding the additive it was yet again Mark and Keith at the front end of the grid but this time led by Craig.
Down the order Gecko's Steve Davis took 4th on the grid from Overlander's Danny Conway, Tony Bishop, Phat Bodies Dan Osborne, Matt Drewett, SMD's Cris Oxley and Chris Bottle to round out the 4WD top 10.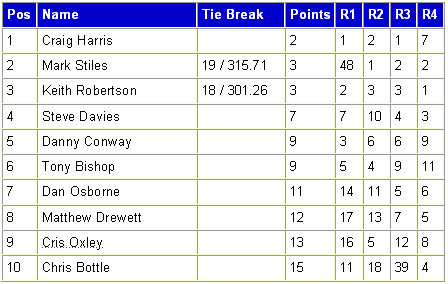 2WD A-Final
Danny wrapped up the 2WD Championship by taking the 2WD A-final by nearly a clear lap. Thomas cruised home safely in 2nd place with the best part of a 20 second gap to 3rd place Gavin who managed to keep Mark, Dan and Michael at bay.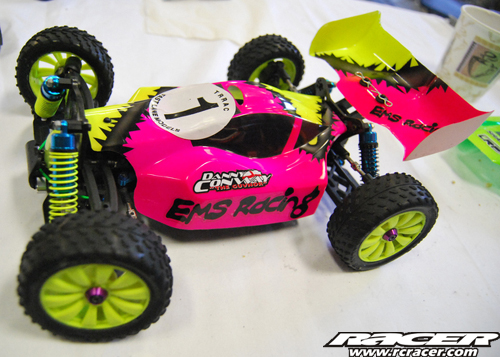 Danny Conways "2WD" LRP Shark ST
After some drama mid-race Craig limped home in 7th after a strong start, closely followed by Cris who was suffering grip roll problems for the duration of the final. Luke finished 9th with sole Mini-T runner John rounding out the 2WD A-final.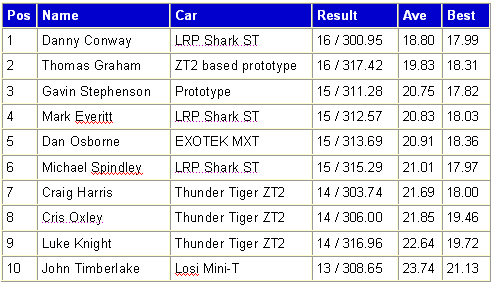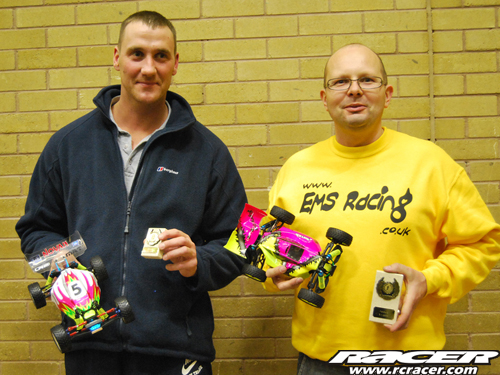 2WD A-final podium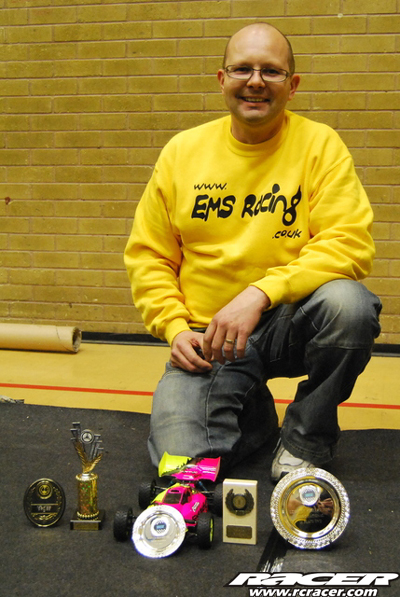 Danny's 2WD Championship winning LRP Shark ST and the shiny "pots" that hes "hunted".
4WD A-Final
From the very start of the 4WD A-final is was only ever going to be between Craig, Keith and Mark but the question would be; in which order would they finish?
After taking top place in qualifying Craig set off with a point to prove and looking to maximize his start to the Championship before his home round of the Series at Caldicot.
At half way Craig seemed to have settled into his rhythm but all the time Keith was edging ever closer to Craig's custom Shark and the two started to battle for position as the race started to draw to a close.
With only afew laps remaining Keith had managed to draw out a sizable gap to Craig and Mark who were locked in their own battle whilst trying to get lucky darting in and out of the lapped traffic but at the last corner Mark drifted wide of the apex, the first mistake he had made all day, which allowed Craig enough room to sneak a move in to claim the second place on the podium.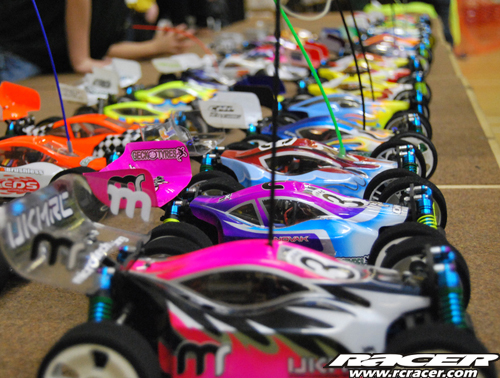 Toman and Robertson lead the pink revolution…
Mid pack Phat Bodies newest signing Steve Davies sailed home in 4th place only 2 seconds in front of the 2WD Champion Danny who in turn was only 0.5secs in front of Chris Bottle! A Hereford sandwich if ever I've seen one!
Tony Bishop rounded out the last of the '17 lappers' with Matt, Dan and Cris following the pack to finish the A-Final.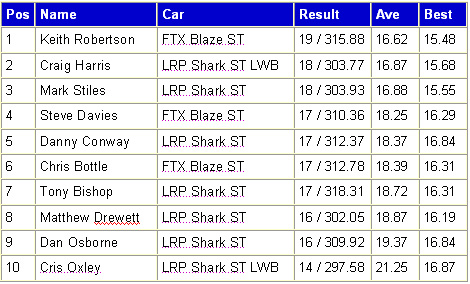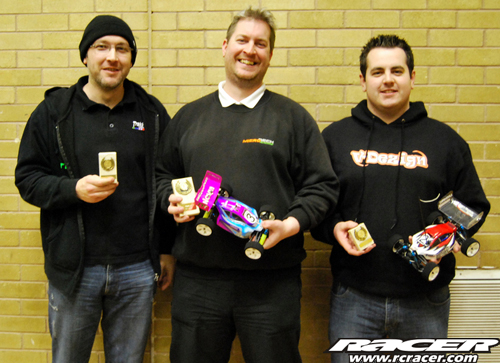 You wouldnt trust your purse with 'em would ya? 4WD A-final top 3.
Other Final Winners
4WD F – Sam Spindley
4WD E – Tom Penn
4WD D – Jason Beattie
4WD C – Danny Beattie
4WD B – Daniel Murphy
2WD B – Paul Knight
Concours – Andy Vincent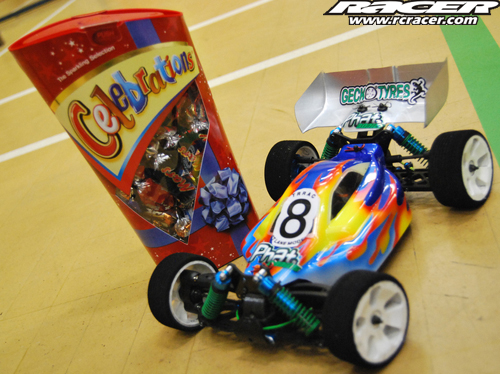 Vinny's Concours winning shell.
Over the border we go…
The new extended Shark chassis seemed to impress all who saw it with numerous people mentioning how dialled Carl Venter's LWB Shark ST looked thoughout the day.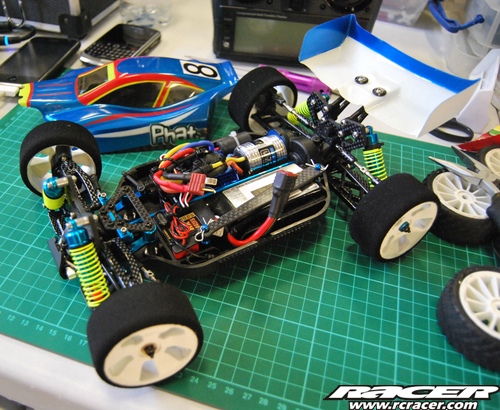 Stretched Venter
The focus is now onto Round 5 of the Series at Craig Harris' home club – Caldicot.
With a reputation for being one of the best micro racing clubs in the country for track layouts and features and a favourite hangout for the likes of the Hereford, WORM and Swansea micro racers the event is sure to be one of the highlights of the Series this year!
The BRCA Micro Committee would like to thank:
All the TRRAC team for running a well organised meeting on the day.
Wim at Action Model Centre for once again supplying his well stocked shop.
All the websites, magazines and forums who allow us to promote and discuss our activities.
John Toman for A-final recap duties and all the micro racers who send us nice messages of appreciation….you know who you are.
In the meantime, entries are sure to be flooding in for Caldicot's Round 5 Micro National so make sure you get yourself over to www.brcamicro.org and enter online!