Xceed RC Master-Fix Pipe Systems And Accessories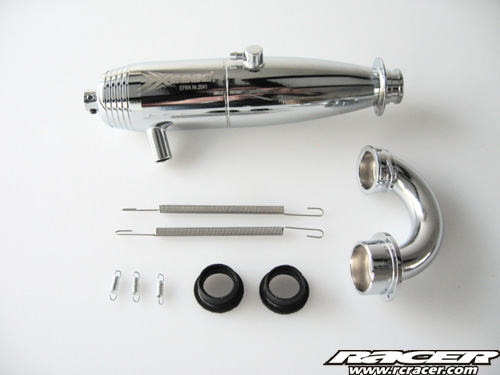 103378   Master-Fix Pipe-Set M21 OFR E-2041 1:8 Scale Off-Road
The Master-Fix pipes are super strong, high performance pipes that work on the most popular modelcar engines such as NovaRossi, Max, Picco, Mega, Sirio and the like.
The pipes are CNC machined from full material, instead of being pressed into shape.
The advantages of machining are:
Stronger
Always the same
A higher quality Aluminium can be used, which can't be used for press-type production
The parts of the pipes are then precision soldered together with top quality pressure nipple and flanges.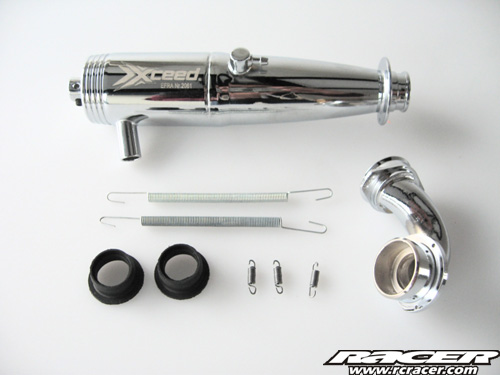 103375   Master-Fix Pipe-Set M21 E-2061 1:8 Scale On-Road
The exhaust adaptors and pipes have the Master-Fix system, as once invented for RC cars by engine guru Karl-Heinz Meister from Germany and now is used by many. The 3 short spring system is strong and creates a super seal between pipe and adaptor and the supplied springs and silicone seals are also of superb quality.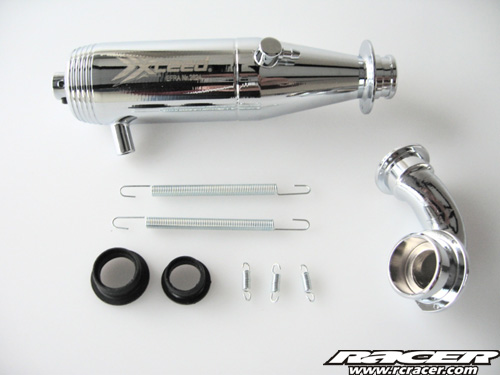 103370   Master-Fix Pipe-Set M12 E-2624 1:10 Scale On-Road
Under the Xceed MF line the company also offer some special made exhaust mounting springs and .12 and .21 long exhaust springs in normal manner and also a new version which allows a nicer fit between engine and carburettor.
The pipe-sets are packed in a strong carton box, with Xceed decal. The other products are packed in a poly-bag with Xceed header cards. The introduction is planned for February 2010, in time for the start of the new season.
Xceed RC Main Pipe-Sets
103370   Master-Fix Pipe-Set M12 E-2624 1:10 Scale On-Road
103375   Master-Fix Pipe-Set M21 E-2061 1:8 Scale On-Road
103378   Master-Fix Pipe-Set M21 OFR E-2041 1:8 Scale Off-Road
Source: Xceed RC