Byron On-Road Challenge
Race Report By Eric Schutt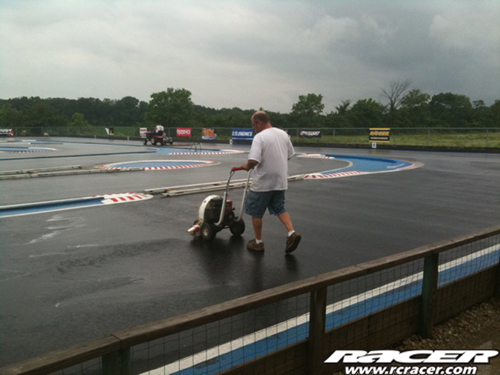 June 25, 26 & 27, Leisure Hours Raceway in Joliet, Illinois played host to yet another successful weekend of on-road racing.
My life has been exciting to say the least. Currently, I'm in the process of attempting to sell my house, move to Wisconsin, and tackle an entirely new job. All that is going great, but it makes it a bit hard to fit in R/C time. Let alone a three-day event. That said I was only able to attend on Sunday. Friday was practice, Saturday was three rounds of 'rocket round' qualifying, and Sunday was one remaining qualifier followed by the mains. I raced the GT class with my Kyosho Inferno GT. I had spent a fair amount of time preparing my car. I replaced lots of worn drive train parts, installed a brand new Kyosho engine, and even topped it off with a shiny new Ferrari body. I run this car regularly at Leisure Hours, so I felt pretty confident how it would perform.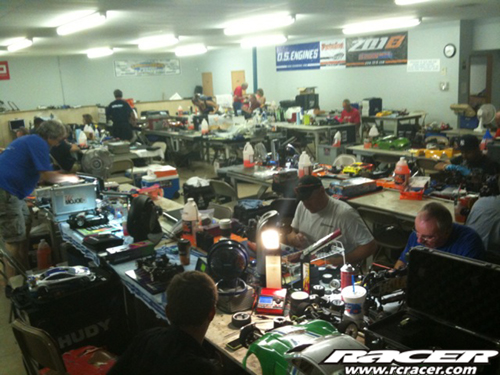 First thing Sunday AM, I dropped the car on the track for a few 'shake down' laps, and it felt good. With two heats of GT qualifiers, I would be starting last in the 'B' group. This would be the first (and only) qualifier on Sunday. With threatening skies, we started the 10-minute qualifier. The car felt competitive, and I had a solid run and won the heat. On the very last lap though, it began to rain. What started as a light sprinkle turned into a full on deluge. This would cancel our qualifier, as well as all remaining qualifying for the event. In the end, it really didn't matter given it was 'rocket round' qualifying, I would still be starting in the back of the last group.
The track crew worked hard and brought the track back to race quality very quickly, and we were back at it. I would be starting last in the 30 minute B main. In order to bump up into the A main, I would need to finish either 1st or 2nd place. I got off to a solid start and quickly made my way to the front of the group. Towards the end of the main, I was safely in 2nd place with several laps over 3rd. I opted to take it easy and not chase 1st place, as I only needed a top 2 finish to bump.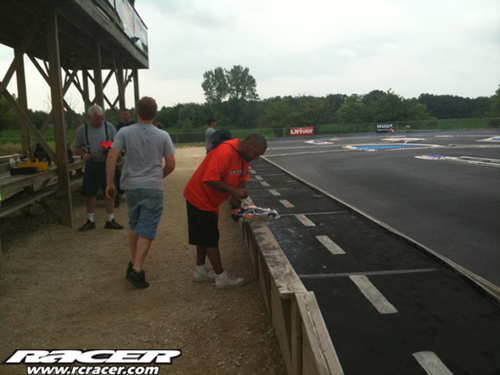 Unfortunately, there was some 'poor communication' as it related to the 'spec' rules for this GT class. There was a pretty clear and specific set of rules circulated prior to the event, which they changed on Saturday AM, specifically as it related to allowable tires. I came extremely prepared for what everyone thought the rules would be, but not for the 'updated' rules. Like all forms of racing, tires are one of the single most important variables, especially when we're talking about long mains on a hot asphalt track. I only had one set of the allowed tires, and these were a set that I already raced much of last season. Simply buying a new set for the 45-minute A main wasn't an option, as these tires require to be broken in, and there would not be track time prior to the main. I bought a set of used tyres off a fellow racer, hoping they would suffice. I topped off my Ballistic radio batteries and was prepared for battle.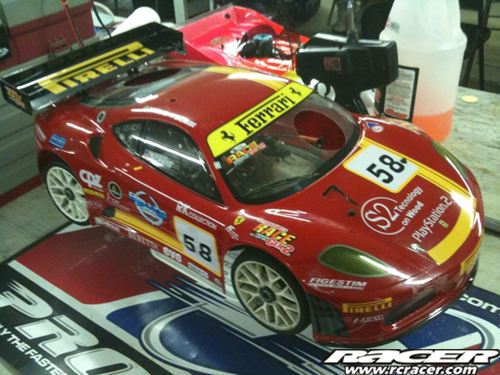 Starting in 12th (the last) position for the 45-minute A-main, I got off to a unique start. At the start, all cars are held by the pitman.  Well, the race starter didn't make eye contact with all the pitmen, and my guy had my car held in the air when the race started. With 45-minutes to sort everything out, I wasn't concerned. The tires I bought were not the ideal compound, and it was evident on the track. The car was quite loose, spinning out on corner exit. I could manage on most of the track, but there were a few corners I needed to crawl thru to avoid spinning to a stop. This class sees some close racing, and contact is part of the game. More than once, my shiny new Ferrari body got 'tucked' and required an unplanned pit stop to pull it free. All said, I was moving up and had settled into a solid 5th place position with the 4th place car within striking distance. In fact, we had one of the best battles on the track, as we were trading positions for nearly 25 minutes. Towards the end of race, my fresh engine began to go out of tune. Basically, it fully broke in and went very rich. The rich setting caused the car to burn fuel at a faster rate, and I ran out of fuel before my schedule pit stop. Running out in these cars typically 'pops' the glow plug, and this time would be no different. I came off the stand to get my car repaired and back on the track. My stint in the pits definitely took me down a few positions, but I felt good finishing under power in 7th place.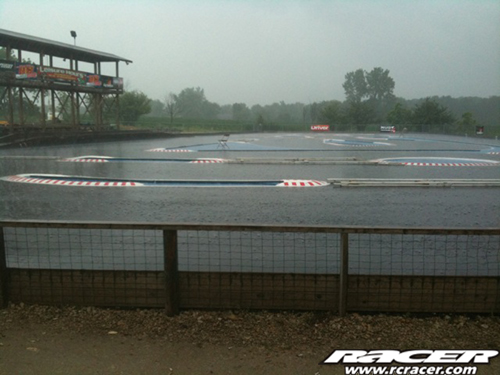 Obviously, attending this event only on the final day was not exactly ideal, but I had a blast and I was pleased with my result. I would like to thank the continued support from all the brands that have continued to stand alongside me over the years.
Byron Originals
Airtronics
Pro-Line
Ballistic Batteries
Merlin Glow Plugs
R/C Car Magazine
Al's Hobby Shop
Source: Pro-Line