FTX Colossus 1:8 Brushless LiPo Powered Truck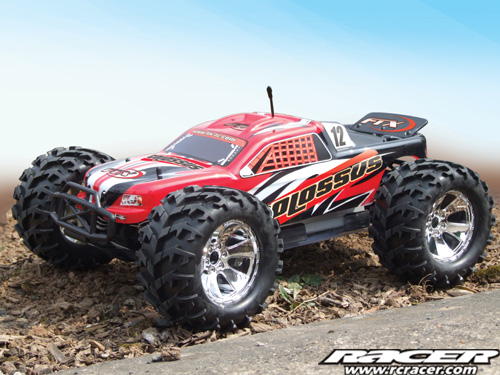 Get ready for some radical weekend bashing with the Colossus electric 1:8 monster truck. The super fast Colossus uses twin 2S 3200mAh LiPo batteries and an 80amp brushless motor system to deliver amazing speed and acceleration. The only recommendation is that you use it in sufficient open space, because you will need it!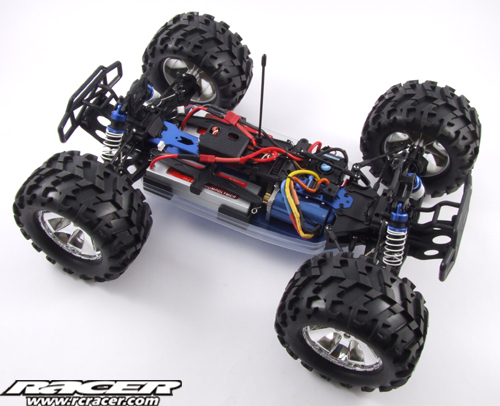 With battery mounts on left and right for perfect weight distribution, wide truck tyres and low mounted bodyshell, it all adds to the Colossus' speed styling and help keep it planted to the ground whenever possible….add further grin factor with the optional bolt on wheelie bar for the rear. Including a 2.4ghz radio system and an Etronix 9kg rated all metal gear servo to look after the steering, the Colossus represents amazing value for those looking for a 1:8 sized electric model. A three differential, shaft drive transmission transmits the power through front and rear universal CVA driveshafts.
Furthermore if you own other models in the FTX stable then many suspension and chassis parts can cross over, reducing the need to carry many spares. Go green, be quiet and try out the exciting Colossus as the new alternative to nitro.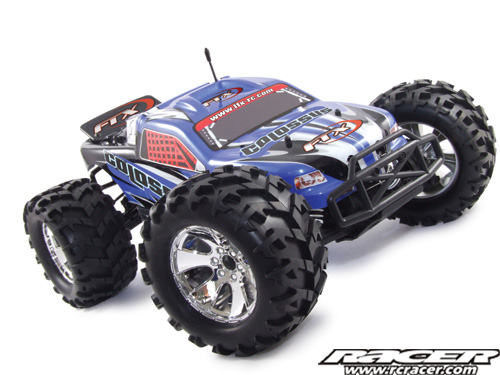 Specifications:
Length: 510mm
Width: 380mm
Height: 220mm
Wheelbase: 330mm
Tyre Size: 155x85mm
Power: Brushless
Features:
Ready-To-Run
2-channel 2.4ghz radio installed
4WD drive system
80A Brushless Speed Control
2230kv Brushless Motor
Dual LiPo 3200Mah 2S 20c 7.4v Batteries
3 Differentials With Four Bevel Gears
Blue Anodised Aluminium Chassis & Top Plate
Adjustable Threaded Long Oil-Filled Shock Absorbers
Balanced Weight Distribution
Front and Rear Bumpers and Skid Plates
Front and Rear Anti-Roll Bars
Front and Rear CVA driveshafts
Sealed Precision Ball races
Pliable durable suspension mouldings
Pre-painted bodyshell
FTX5545     FTX Colossus 1:8 Brushless LiPo Powered Truck – Blue
FTX5546     FTX Colossus 1:8 Brushless LiPo Powered Truck – Red
Source: CML Distribution