HPI Racing Honda Civic Type R EK9 Bodyshell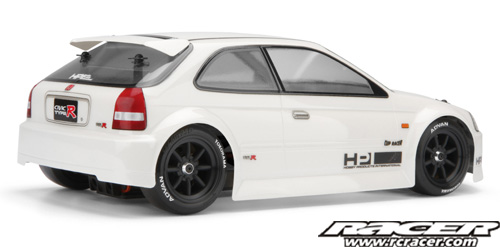 Cup Racer owners… the popular Honda Civic Type R body is back! Completely revised decals and revised tooling make it a perfect fit on Cup Racer and Switch cars as well as many other "Mini" size cars with 225mm wheelbases. HPI have added front/rear light buckets for the ultimate in realism. The huge vinyl pre-cut decal sheet comes all of the good stuff: window lines, tinted rear/side windows just like the real Civic Type R (EK9), two different radiator/intercoolers, official Honda logos and even some retro HPI logos thrown in.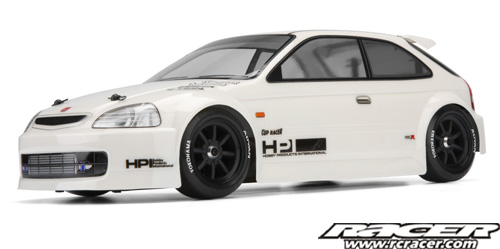 Like all HPI bodies, the Honda Civic comes with a clear protective overspray film, window masks and a large pre-cut decal sheet. The body also has drill locations marked for HPI Cup Racer cars, making it easy to line up the body mount and antenna holes.
Features
Premium vinyl decals include window frames, headlights, grill, tail lights, official logos and more – For a perfect finish with a lot of details
Front and rear light buckets – allows you to add real lights for the ultimate realism
High quality polycarbonate with excellent dimensional stability and impact resistance – For extra strength and longer life
Pre-marked body post holes – For easy mounting on HPI cars
Fits the HPI Cup Racer, HPI Switch and other "Mini" size cars
#7216     HPI Racing Honda Civic Type R EK9 Body (WB225mm. F0/R0mm)
Source: HPI Racing