JConcepts RC8b Punisher Body Now In Stock At SMD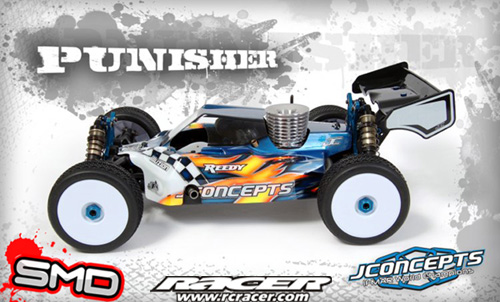 SMD now have stock of the JConcepts RC8b Punisher body in the UK. The Punisher body by JConcepts for the Associated RC8b is the meanest, nastiest thing out for 1:8 buggy racing.  Throw everything you know out the window, the Punisher separates itself from the rest of the bodies on the market with it's distinctive styling.
The radical new Punisher body stares you down like a trained fighter.  The slight cab-forward treatment is amongst the most aggressive in class giving the Punisher top notch performance.   Blended wing / body design gives additional down-force to the side-pods and windshield which increases drivability, corner speed and jump control.  The rear base of the cab area represents the latest offering for 1:8 buggy racing featuring a super low profile design for increased engine cooling, air flow and escape.
Features
Original – JConcepts Punisher design
Blended wing / body design
Clear polycarbonate with protective film
Window masks and decal sheet
All bodies are sold clear and are shown painted for advertising purposes only.
JC0202     JConcepts RC8b Punisher Body    RRP £23.99
JConcepts products are available in the UK through Spire Model Distribution. Check out their website for more details at www.s-m-d.co.uk
Source: Spire Model Distribution