Losi Release World's Smallest 4WD Short Course Truck And Rally Car
An agile 4WD drivetrain and powerful micro motor hooked up with a rugged chassis, extended suspension travel and oil filled shocks make the Micro Rally Car/SCT a blast to drive on a myriad of different surfaces. Just forget its size, indoors or out it will power its way around or over most obstacles, and getting the power down on any lose or slippery surface will test a driver's ability to control a car under the most difficult of driving conditions.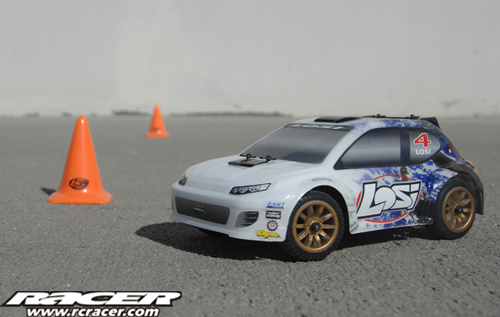 Ready to run straight out of the box all that's needed to get up and running is to charge the 220 mAh battery and the rally car can hit the dirt. That will deliver around five minutes of run time depending on how hard the car is driven and extra batteries are available in various sizes, so track time can be easily maximised. A bottom loaded battery compartment means that changing batteries is a breeze and can be completed without all the hassle of taking off the bodyshell.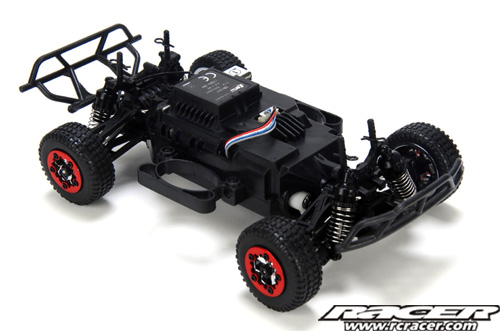 The Micro Rally Car features a scale rally style body with a choice of four trim colours based on two basic types of livery. The traditional type of rally/SCT livery is complimented with a style more in-line with the looks of popular rally/SCT liveries seen in the US today. Scale wheels and tyres finish off the scale appearance.
The built in combined receiver and speed controller keep weigh to a minimum but still offer fully proportional control both in forward and reverse and nerf bars incorporated into the design of the chassis also allow a level of protection for the electronics as well as the suspension.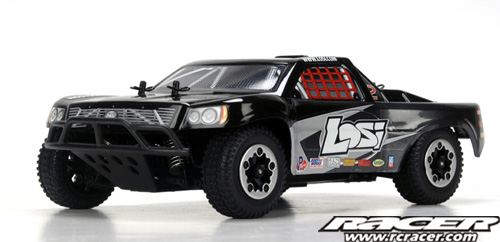 1:24 4WD SCT (Short Course Truck) RTR Specification
Length:                        163mm  (6.42 in)
Width:                          94.5mm  (3.72 in)
Wheelbase:                   99mm (3.9 in)
Weight:                        165g (5.3 oz)
Chassis:                         Extended composite tub
Suspension:                   Independent 4-wheel
Radio System:                Pistol-style AM 27Mz in 6 channels
Speed Control:               Electronic, fully proportional forward/reverse
Batteries:                      4.8V 220mAh NiMH (included)
Charger:                       Peak wall charger (included)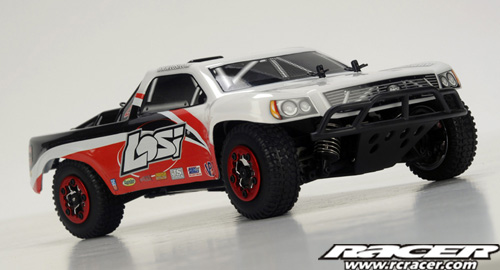 Features
4.8V 220mAh battery pack and charger
2-in-1 ESC/receiver combo unit
Powerful micro motor
Adjustable composite coil-over shocks
Durable, moulded composite chassis
Shaft-driven transmission gear differential
Micro all-terrain short course tyres
Simple bottom-load battery compartment
Threaded axles (no e-clips required)
Beadlock-style Short Course wheels
Micro steering servo
Side nerf bars for collision protection
Realistic front and rear bumper with skid plates
Fully decorated short course body available in different colours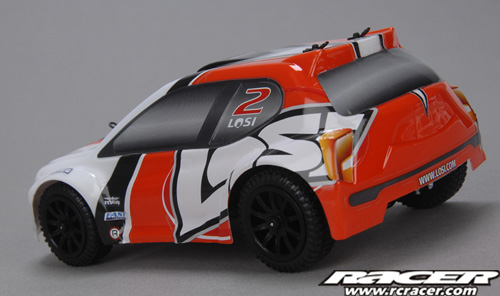 1:24 4WD Rally Car RTR Specification
Length:                        163mm  (6.42 in)
Width:                         94.5mm  (3.72 in)
Wheelbase:                  99mm  (3.9 in)
Weight:                       160g  (5.3oz)
Chassis:                        Extended composite tub
Suspension:                  Independent 4-wheel
Radio System:               Pistol-style AM 27MHz in 6 channels
Speed Control:              Electronic, fully proportional forward/reverse
Battery:                        4.8V 220mAh NiMH (included)
Charger:                       Peak wall charger (included)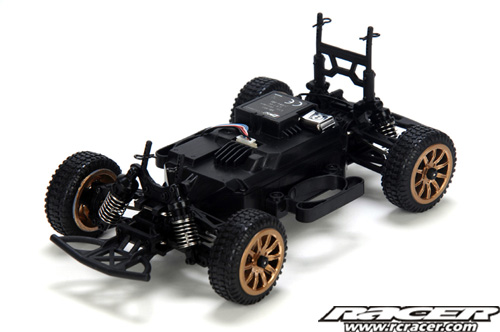 Features
4.8V 220mAh battery pack and charger
2-in-1 ESC/receiver combo unit
Powerful micro motor
Adjustable oil-filled, coil-over shocks
Durable moulded composite chassis
Shaft-driven transmission gear differential
Micro all-terrain rally car tyres
Simple, bottom-load battery compartment
Threaded axles (No e-clips!)
Gold or black rally wheels
Micro steering servo
Side nerf bars for collision protection
Fully decorated rally car body available in different colours and liveries
LOSB0240      1:24 4WD MICRO SHORT COURSE TRUCK RTR      RRP: £89.99
LOSB0241      1:24 4WD MICRO RALLY CAR RTR      RRP: £89.99
Source: Horizon Hobby UK