Much-More Racing UK GP In Ballymoney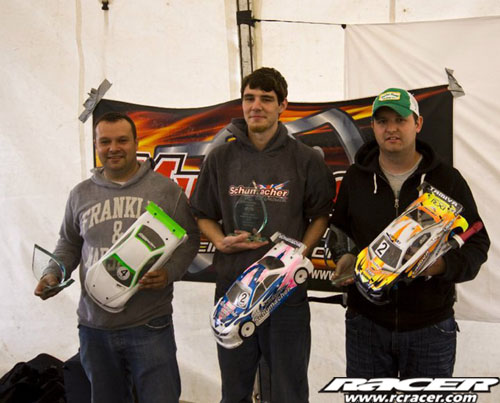 Pro Stock Top 3 – Graham Kenny, Keith Dempsey, Mark Gilliland
The Much-More Racing UK GP visited the Ballymoney track in Northern Ireland this weekend for the second round of a three round GP series, the first of  which has already taken in Stonehaven in Scotland and concludes at the Carlisle track in North West England on August 13th to 15th.
Despite missing the pole grid position, it was local driver Graham Kenny (Schumacher) who won the first of the two leg A final in the Pro Stock class which every driver competed in on the Saturday.  Rain interrupted the second leg and brother, Scott Kenny took the win in leg two but Graham's fourth place rewarded him with the overall title of Much-More Racing Irish GP Champion.
Sunday (modified day) saw damp weather that would clear throughout the day, leaving a dry track and hot sunshine and it was Alan Bickerstaff (Associated / Much-More UK) that lead the field taking pole position for the two leg finals.  A win in leg one was enough to give Alan the overall win ahead of Graham Kenny (Schumacher) and Dan Rowlands (T.O.P. Photon / Much-More UK) in third place.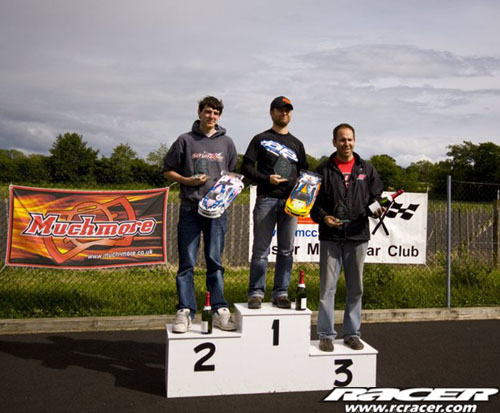 Modified top 3 –  Alan Bickerstaff, Graham Kenny, Dan Rowlands
An excellent weekend for all involved with Alan Bickerstaff's national and international experience just snatching the modified title from Graham Kenny who still had a superb weekend in both pro-stock and modified classes.  The event used a Muchmore Racing VQ control tyre which has been tested across all 3 tracks for consistency and traction as well as being tested by former IFMAR World Champion Atsushi Hara.  The feedback from the Ballymoney track was that the tyre was very consistent and provided good traction keeping racing close throughout the heats and finals.
Full results of the meeting are available here: http://muchmoreracing.com/irish-gp/irish-gp/2010-irish-gp-results.html
Source: Much-More UK