Neil Diver And Velox V8 Win At Adur BRCA National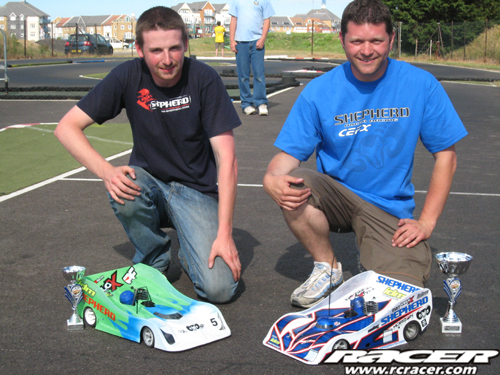 Round 5 of the BRCA 1:8 On-Road Championship took place at the Adur circuit in the South of England. The Horizon Hobby/ DH Modelsport Team of Peter Hastings, Andrew Hastings and Neil Diver were all in attendance at this technical circuit. All 3 drivers were lapping the circuit quickly in the hot conditions on Saturday practice day.
Qualifying for the team finished with Neil Diver in 2nd, Peter Hastings 5th and Andrew Hastings 6th for the A final. In the lower finals Lee Wakelin cruised to a C final win with his Velox V8. The A final started with Neil dropping to 4th after a bad start but getting back up into 2nd by the end of the first lap, Peter was less fortunate as a good start had moved him into 3rd at the end of the first lap, but after being hit by another car his race was compromised due to a damaged rear tyre, Andrew did well to avoid other cars and held onto his starting position. Neil continued to follow Tim Wood with a couple of seconds gap between them, just after the last pit stop Tim ran into problems leaving Neil with a 4 lap lead over the rest of the field which he would hold until the end. Andrew Hastings had been consistently lapping the circuit and was up to 3rd place at the end of the final only a few seconds behind 2nd place. Peter finished in 4th with his damaged car. In the final Neil managed to set the fastest lap time of the whole weekend proving the speed of the Shepherd Velox around this technical circuit.
Source: Team Shepherd