Robitronic Wall Charger And Electric Starter Set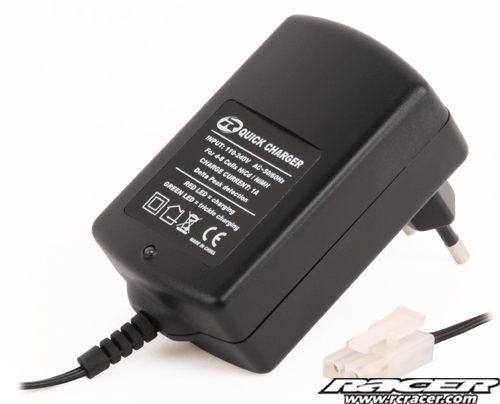 Wallcharger With Delta Peak Cut-Off
This wall charger features a reliable delta peak cut-off and is especially suitable for the RC beginner.
Features
4-8 cells NiCd / NiMh
1000mAh charge current
Delta peak cut-off
Reverse polarity protected with Tamiya-style plug
Works with 110-240 volts mains
R01001     Quick Charger 4-8 cells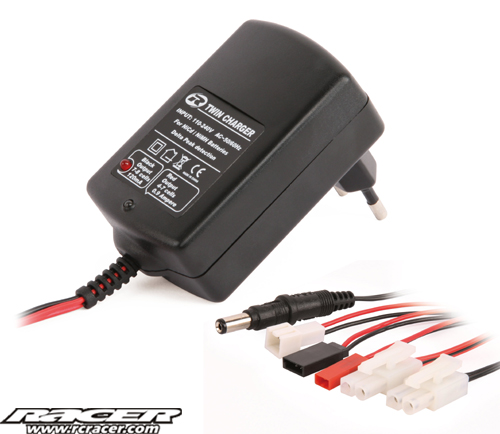 Twin Charger
Wall charger featuring 2 outputs with a multi-plug system
Output 1: 7-8 cells NiCd/NiMh 120mAh charge current
Output 2: 4-7 cells NiCd/NiMh 900mAh charge current delta peak cut-off
Multi-plug system
Includes connectors for Tamiya-style plugs, transmitter plugs, (polarity switchable) BEC, receiver plugs and microplug.
R01002     Twin Charger 4-8 cells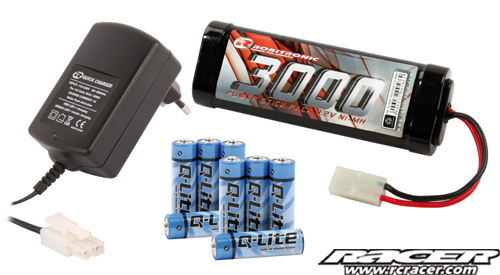 Starter Kit for Electric Cars
A convenient set including a wall charger, battery and TX batteries for the RC beginner. Also suitable for the electric starters for nitro cars.
Features
Wall charger 4-8 cells, 1000mAh charge current and delta peak cut-off
NiMH stickpack 3000mAh capacity
AA-size batteries for transmitter
RB1017     Starter Kit for Electric Cars
Source: Robitronic