Jeep Comanche Full Bed Clear Body From Pro-Line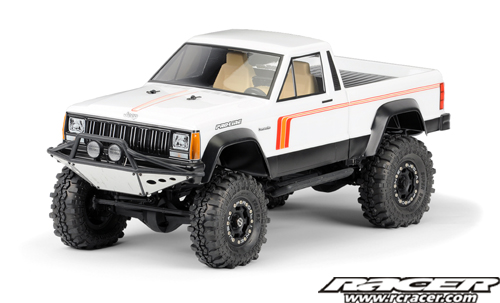 Jeep fans rejoice! Pro-Line is pleased to announce the release of the 1982-1992 Jeep Comanche body for 1:10 Scale and Crawler rigs (12.3″ wheel base). Again, with over the top detail, Pro-Line brings another iconic crawler back to life for the 1:10 Scale Builders.
Utilisng a modular cab/bed design, the Jeep Comanche comes in two configurations; either a fully detailed truck bed or clearanced bed for the Axial Trail Honcho Cage system. With either system, builders are given a high degree of flexibility.
Features
Designed for 12.3″ wheelbase crawlers
Modular cab/bed design allows multiple configurations
Available in 2 configurations; SCX10 Trail Honcho (#3333-00), Full bed detail (#3335-00)
Perfectly detailed and classic line's create the perfect 1982-1992 Jeep Comanche
Use Pro-Line's 12.3″ wheelbase PL-C Floor Pan (#3339-00) and PL-C Interior (#3337-00) for the ultimate scale rig.
Made with Genuine GE Lexan
Paint then peel overspray film
Made in the USA
What's Included
Clear Lexan Jeep Comanche Cab (1),
Clear Lexan Jeep Comanche Bed (1)
Jeep Comanche decal sheet
Window mask included
Paint-then-peel overspray film included
Assembly Hardware
3335-00     Pro-Line Jeep Comanche Full Bed Clear Body     MAP: $42.95
Please note: All bodies are sold in crystal clear lexan and are painted for advertising purposes only.
Source: Pro-Line