Sniper M2 (Medium) Off-Road 1:8 Buggy Tyres From Pro-Line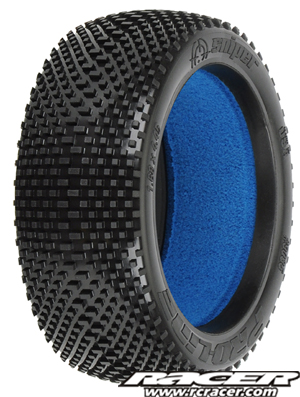 Honey, I blew up the Hole Shot! Pro-Line is proud to introduce the Sniper 1:8 buggy tyre. The Sniper uses the same design philosophy and technology as the Hole Shot, but scaled up to work in looser and dustier conditions. After initial testing, Pro-Line team drivers like Ryan Cavalieri and Travis Amezcua are already sold on the tyre saying that the Sniper offers awesome forward traction and side bite in a variety of track conditions. The bigger pins also provide longer wear, giving you lasting traction through long A-mains.
Eliminate the competition by picking up a set of Pro-Line's new Sniper tyres.
Tyre Features
Based on the World Champion Hole Shot
Pro-Line's square-lug technology
Larger lugs for longer wear
Made from M2 (Medium), M3 (Soft), M4 (Super Soft)
What's Included
Sniper tyres (2 pcs)
Moulded Foam Inserts (2 pcs)
9035-01       Pro-Line Sniper M2 (Medium) Off-Road 1:8 Buggy Tyres
See Pro-Line's website at the source link below for details of other tyres and compounds available.
Source: Pro-Line