BRCA 1:12 Nationals Round Four – Plymouth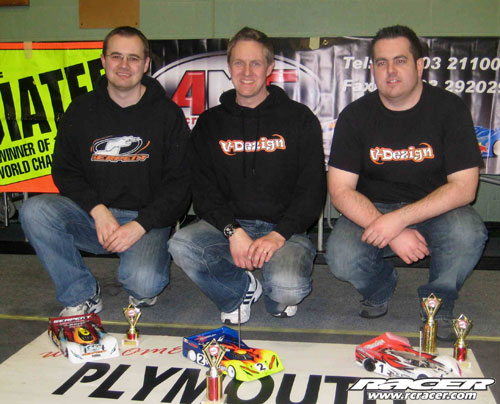 Round four of this seasons BRCA 1:12 National CHampionship saw the annual trip south to a venue that remains a favourite on the calendar for many of the drivers. When entering the venue, the drivers were greeted with an extra two metres of carpet width, ensuring that this is one of the largest venues visited during the series. The track had been laid to produce a fast flowing circuit which provided some excellent racing throughout the entire field.
Saturday – Stock
Through Stock qualifying Chris Kerswell showed dominance to hold back Andy Griffiths, Mark Stiles and Matthew Varah who just couldn't match Chris' pace. Once again, the 2011 season welcomed another new member to the 'A Final' club with Mark Burgess making his first in the spec class. The A final saw Chris convert his pole into a stable lead, bringing home the win with just over three seconds to spare and allowing him to produce the only 40 lapper of the final. All eyes were on the battle for second between Andy and Mark; after a slightly poor start Mark had lost out to Matthew Varah and found himself having to reclaim third and then close down Andy. A minor mistake from Mark gave Andy a couple of seconds breathing space, but this was soon clawed back giving the spectators an enthralling last couple of laps, where Andy had to use all of his experience to keep Mark at bay. A final sprint for the line from Mark made the final a dead tie for second with both drivers finishing their 39 laps in 2.88 seconds on the split! A tie has never occurred before at a BRCA 1:12 National. As a result there is nothing in the rules to accommodate such a scenario! In the end it was decided that both drivers would be awarded equal championship points, with Andy being awarded the trophy for second by virtue of qualifying higher.
Sunday – Sports Modified
There were no surprises during qualifying in the Sports Modified class as Mick Farrell took TQ despite claiming to be slightly out of sorts. The A final saw some bad luck for Mick; whilst comfortably leading his motor came out of mesh, forcing him to retire. This gifted the lead and eventual win to Daniel Holmes, who kept his composure to record his first win with his V-Dezign car. Peter Craig's Serpent kept Daniel honest for the whole race, with Jim Spencer finishing third driving an Associated.
Sunday – Open Modified
Open Modified provided saw all the usual suspects at the front, all of whom were looking to capitalise on the absence of current championship leader Elliott Harper. Chris Kerswell was quickest in round one, but the remaining three rounds saw a dominant performance from Mark Stiles. Mark seemed to have found some horsepower since the previous national and was also driving exceptionally well. He set his quickest time in round three, and was on for an even faster time in the final round until a mistake lost him valuable seconds. Andy Griffiths was his usual consistent self and made it an all V-Dezign front row ahead of Chris Kerswell's GM-powered Serpent. Mark Payne made his first A final and would start tenth on the grid. Many people felt that the A final would be a one-sided affair and Mark's times during qualifying appeared to suggest this. However, a small diff adjustment prior to the start made his car push during the final and he couldn't match his qualifying pace. Andy and Chris followed Mark for almost seven minutes in the final, and the slightest of mistakes from Mark was enough to let Andy sneak through for the win. Mark crossed the line just 0.2 of a second behind, with Chris ending up a few seconds back in third. The result was hugely disappointing for Mark after he had shown incredible pace during qualifying. He was however, delighted to have taken his maiden BRCA National TQ along with the fastest lap of the event.
Full results, championship positions and A final videos will be available on the BRCA website soon. Click here to view the nationals information and results page.